Sophisticated Heritage Accommodations: Choose from our premium selection of hotels where Spanish history is elegantly preserved. Nestled in grandiose, centuries-old buildings, these luxury hotels offer a stay where sumptuous historical charm meets the pinnacle of modern comfort.
Iconic Views of the Capital's Skyline: From the Royal Palace to the bustling Gran Vía, our luxury hotels boast spectacular vistas. Picture yourself sipping a Rioja on a private balcony as the Madrid skyline unfurls beneath you, with the city's landmarks just a stone's throw away.
Culinary Celebrations of Spanish Flavors: Dine in the lap of luxury where each meal is a fiesta for the senses. Our hotels' fine dining establishments serve up a medley of traditional Spanish gastronomy and innovative culinary creations, ensuring every bite is as memorable as the city itself.
Tranquil Urban Retreats: Retreat to the serenity of our hotels' sumptuous spas and wellness centers. Whether you desire a rejuvenating massage or a leisurely afternoon in an elegant, sun-soaked courtyard, these peaceful havens offer a perfect balance to the energetic pulse of Madrid.
Tailored Cultural Experiences: With services that exemplify the height of personalized care, our concierge teams are at the ready to craft your ultimate Madrid itinerary. From arranging private viewings of the Prado's masterpieces to securing reservations at the hottest tablaos for flamenco, your desires are the day's agenda.
Stepping into the grandeur of the Mandarin Oriental, Ritz Madrid is like entering another era. Housed in a Belle Époque palace, this illustrious hotel offers not just a stay, but a journey of luxury. From the complimentary Wellness Centre to the free parking and in-suite reservations that come with one-way airport transport and Wi-Fi, every detail is crafted for your convenience. Each of the 100 rooms and 53 suites is a masterpiece in itself, designed with opulent materials and a blend of timeless and modern aesthetics. The wellness centre, complete with an indoor swimming pool, a vitality pool, experience showers, a steam room, and a fitness centre, ensures your relaxation. Your culinary journey in the hands of celebrated Chef Quique Dacosta promises to be a gastronomic delight at the five on-site restaurants and bars. The hotel's prime location in the Retiro district places you within walking distance of the peaceful Retiro Park and Madrid's most eminent museums, including the Prado and Thyssen Bornemisza. The Reina Sofia museum is just a leisurely stroll away from the hotel.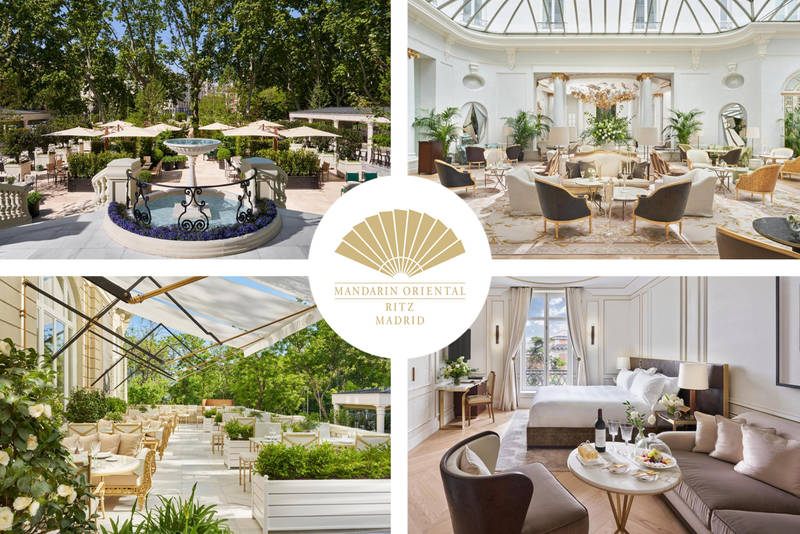 Nestled in the heart of Madrid, just a quick, six-minute stroll from the bustling Gran Via Metro Station, resides the luxurious Four Seasons Hotel Madrid. This splendiferous 5-star hotel not only offers a private bar and parking, but also serves up top-notch room service and complimentary WiFi for its esteemed guests. For those in pursuit of relaxation and wellness, the hotel boasts an indulgent spa, complete with an indoor pool, fitness center, and a soothing hot tub. A lovely terrace is also available for those who wish to soak in the city's charm. Guests can expect to wake up to spectacular city views from some rooms, all of which are equipped with private bathrooms for an intimate bathing experience. Each morning, the hotel serves a delicious choice of continental, Italian or American breakfast to kick-start your day. The in-house restaurant at Four Seasons Hotel Madrid is an epicurean delight, offering an exquisite mix of Mediterranean, local and Asian cuisines. Catering to all dietary needs, they also provide vegetarian, vegan, and gluten-free options upon request. The hotel's 24-hour front desk is manned by a multilingual staff, fluent in Arabic, English, Spanish, and French, always ready to assist you. A stone's throw away from the hotel are popular attractions such as the Thyssen-Bornemisza Museum, Gran Via and Reina Sofia Museum. Travelling to and from the hotel is made easy with the Adolfo Suarez Madrid-Barajas airport located merely 7.5 miles away. The hotel also offers a convenient, albeit paid, airport shuttle service for its guests.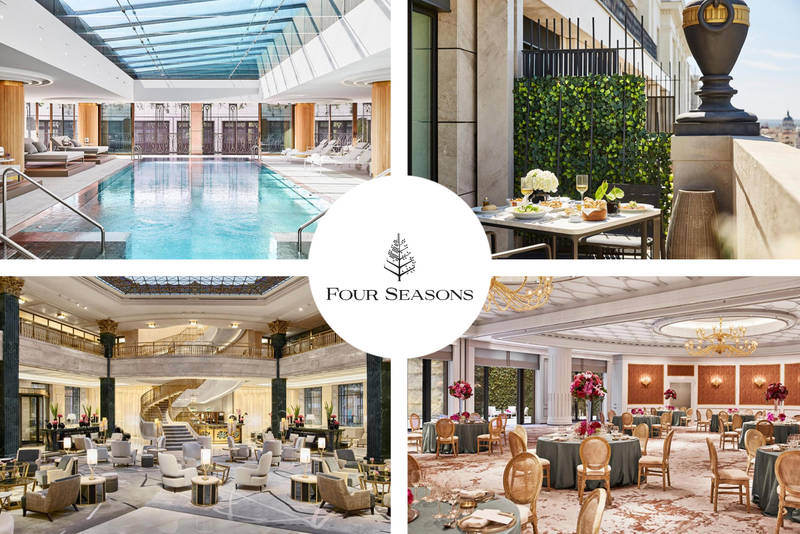 Nestled in the posh Salamanca neighbourhood of Madrid, the exquisite Rosewood Villa Magna showcases an array of exclusive rooms and suites that scream of opulence. This hotel serves as a beacon of luxury with its lavish spa, marble-clad bathrooms and mesmerising views of either Serrano Street or Castellana Avenue. The rooms at Villa Magna are generously spacious and dripping with luxury - a delightful fusion of antique-style furniture and modern finishes. With added touches like laptop safes, in-built chargers and even rain showers in some rooms, the hotel doesn't miss a beat in offering a luxurious stay. For relaxation, there's the Sense, A Rosewood Spa offering a range of treatments, and a fitness centre for those who like to keep up with their routines. Food and drink are another highlight here. From the grill-focused Las Brasas de Castellana to AMÓS Restaurant that honours Cantabria's flavours, and the urban cocktail bar TARDE.O, to the all-day café, Flor y Nata patisserie, there's a culinary delight for everyone. Plus, its location near Madrid's Golden Mile shopping district and a short 10-minute walk from Santiago Bernabéu Stadium makes it a prime spot for travellers.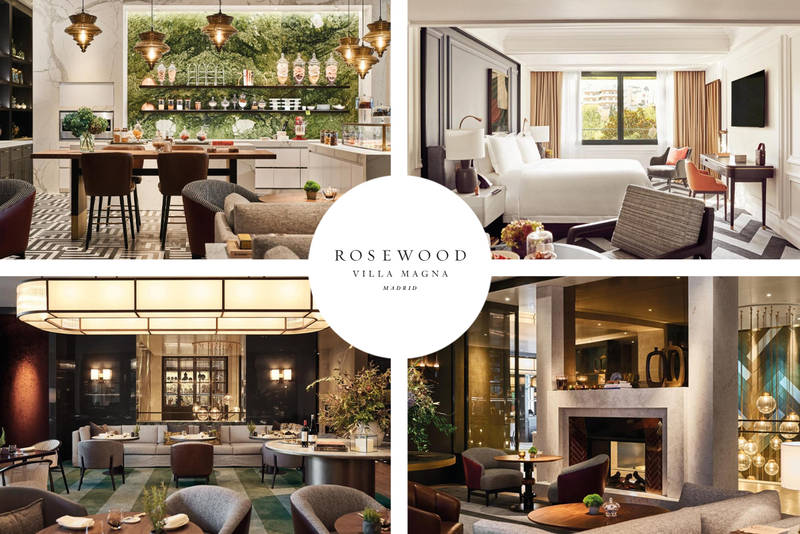 Nestled in the heart of Madrid's literary quarter, the Gran Hotel Inglés, a member of the prestigious Leading Hotels of the World collection, is a five-star retreat enveloped in a captivating 19th-century edifice. The hotel is delightfully located, just a short stroll from the city's cultural epicenter and a brisk 20-minute walk from the majestic Royal Palace. The rooms, each a homage to the art-deco era, offer a stylishly comfortable setting, complete with a cosy seating area and an ultra-modern flat-screen television. The hotel's culinary offerings are a gastronomic journey in themselves, with a daily à la carte breakfast buffet and an in-house cocktail bar, LobByto. Business travelers will find the state-of-the-art conference rooms indispensable, and those seeking a rejuvenating escape can explore the hotel's dedicated wellness centre. The Gran Hotel Inglés, just 8.1 miles from the Adolfo Suarez Madrid-Barajas Airport, makes for an ideally situated base for a memorable Madrid adventure.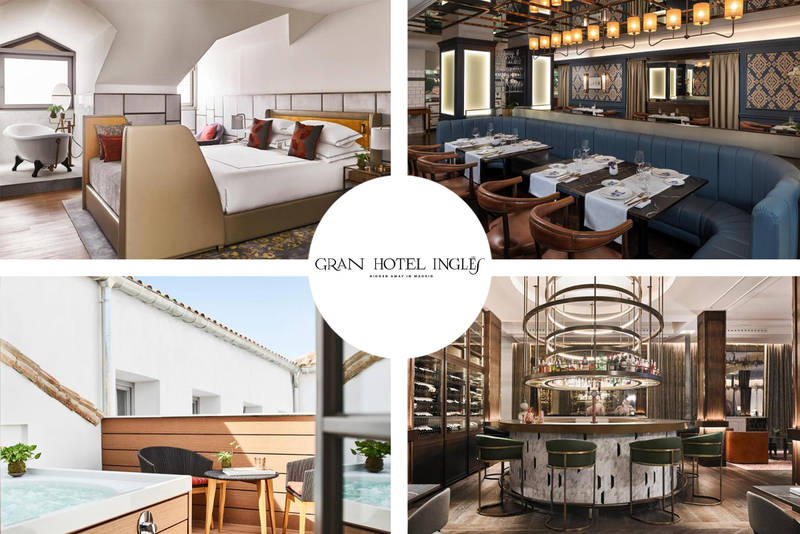 Just a stone's throw away from the mesmerising Paseo de la Castellana in Madrid, is the bewitching Santo Mauro, a proud member of the Luxury Collection Hotels. This majestic retreat ensures you're always connected, with complimentary WiFi access throughout the estate. The Santo Mauro is steeped in a rich history, as it once belonged to the Duke of Santo Mauro, and the impressive architecture boasts distinct French influences. The erstwhile library has been artfully transformed into a gourmet restaurant, promising a gastronomic adventure for all guests. The grand ballrooms, once the centre of opulent festivities, now serve as meeting rooms, perfect for both business gatherings and social events. The hotel also features a serene sauna for a true relaxation experience. Conveniently located, the hotel grants easy access to Madrid's most luxurious designer boutiques, making it a dream destination for those with a penchant for high-end shopping.