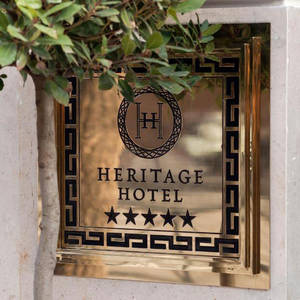 Nestled next to the charming Paseo de la Castellana, the 5-star Relais & Châteaux Heritage Hotel is a gem in the heart of Madrid. This belle-époque beauty is housed in a 20th-century heritage building, where modern, cosmopolitan décor meets cutting-edge technology.
Each room is an urban oasis, complete with private bathrooms featuring upscale toiletries, and plush bathrobes and slippers. Waking up in the Heritage Hotel is a delight, with a sumptuous buffet breakfast ready to greet you every morning.
Haroma, the hotel's on-site restaurant, is a food lover's dream. Under the guidance of Michelin-starred chef Mario Sandoval, it serves up a tantalizing mix of local and Mediterranean dishes for lunch and dinner.
For those seeking some downtime, the hotel's rooftop sun terrace is a stylish spot for relaxation. And if you're in need of tips for exploring Madrid, the ever-helpful reception will happily provide some guidance.
Its location is unbeatable, a stone's throw from the financial district and within walking distance of Madrid's vibrant city center. A 15-minute drive will take you to IFEMA and Wanda Metropolitano, and the Adolfo Suarez Madrid-Barajas Airport is just 6.8 miles away.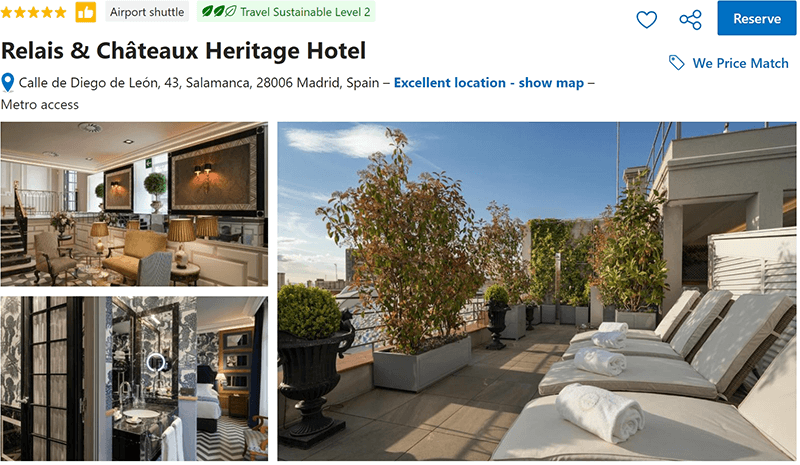 HASHTAGS
#RelaisChateaux #HeritageHotel #MadridExperience #LuxuryStay #SpanishElegance #MadridHeritage #HotelCharm #SpanishLuxury #HeritageTravel #MadridHotels #SpainTravel #BoutiqueHotel #LuxuryAccommodation #HistoricHotels #MadridLuxury