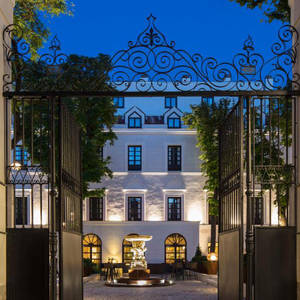 Just 984 feet from the majestic Royal Palace, the Royal Theater, and the Cathedral, you'll find the exquisite Palacio de los Duques Gran Meliá - a gem among The Leading Hotels of the World. This splendid hotel boasts a seasonal rooftop pool and a terrace offering unparalleled city views to truly indulge in Madrid's beauty.
Nestled within a 19th-century palace, Palacio de los Duques Gran Meliá draws inspiration from the renowned paintings of Velazquez. A private, lush historical garden adds to its old-world charm, while a Thai Room wellness center and a 24-hour gym cater to those seeking fitness and relaxation.
Each room and suite is thoughtfully furnished to meet the highest standards of comfort and luxury. A 49-inch LED-TV with Chromecast, an iPhone docking station, a Nespresso coffee machine and complimentary WiFi are standard in every room. The private bathroom, complete with a shower, heated floors and toiletries, is a haven of tranquility.
For the culinary enthusiasts, the Palacio de los Duques Gran Meliá offers three restaurants offering an array of Spanish and French cuisines and wines. A bar and a tea corner are also available for your enjoyment.
Located at a mere 1640 feet from Plaza Mayor and 984 feet from the beautiful Sabatini Gardens, the hotel's location is undoubtedly enviable. The famed Prado Museum is also just a leisurely 20-minute walk away.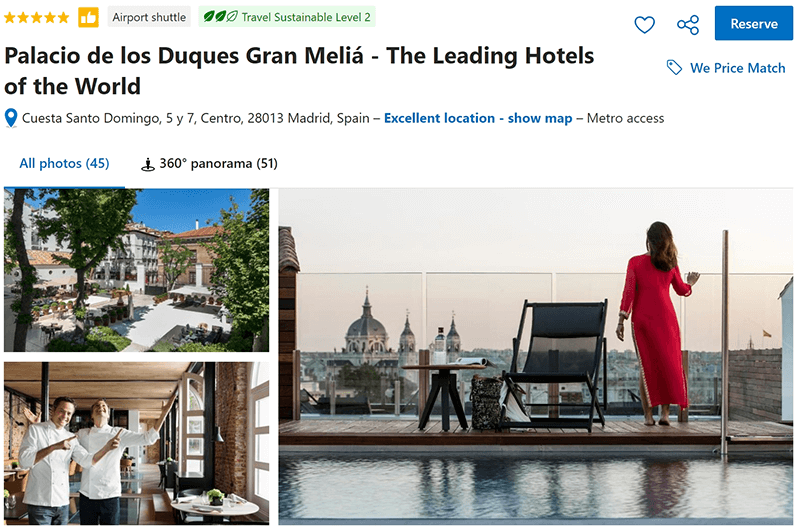 HASHTAGS
#PalacioDeLosDuquesGranMeliá #MadridLuxury #SpanishHeritage #LuxuryStayMadrid #ElegantAccommodation #RoyalExperience #MadridLandmark #DesignHotelMadrid #HistoricMadrid #PremiumStaySpain #MeliáExperience #MadridGetaway #LuxuryLivingSpain #SpanishArchitecture #GastronomyMadrid