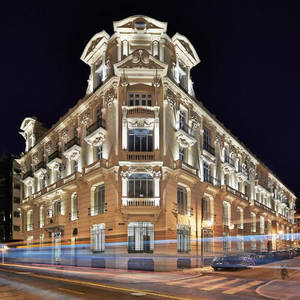 Nestled within the refurbished elegance of a palatial setting, the Small Luxury Hotel of the World, URSO Hotel & Spa, is a mere 5-minute stroll from the Alonso Martínez Metro Station. This luxurious accommodation boasts chic rooms, complimentary WiFi, a spa, and gym, promising a stay that marries comfort with grandeur.
Each room is a testament to impeccable design, equipped with air conditioning, a mini-bar, and a flat-screen TV. Bathrooms are private and well-appointed, complete with a bath and shower, slippers, bathrobes, toiletries, and a hairdryer, ensuring guests are catered to in every possible way.
The hotel's spa offers a sanctuary of wellness with its water area, hammam, massage services, and a gym. For those seeking a gastronomic adventure, the hotel's restaurant, Media Ración, is a traditional brasserie that serves up authentic Madrid delicacies. Boasting a wine cellar with over 650 references, this eatery is a haven for both food and wine connoisseurs. However, the gastronomy does not end here, as the surrounding streets offer a plethora of dining options.
A short 15-minute walk from the hotel will lead you to Serrano, a bustling shopping district, making it an ideal base for those eager to explore. The 24-hour reception staff are always ready to offer tourist information and a ticket service, ensuring that attractions like Madrid's Puerta del Sol and the Retiro Park, which are less than 20 minutes away on foot, are within easy reach.
For those travelling with a vehicle, private parking is available at an additional cost, making this luxurious haven convenient as well as lavish.