Exquisite Beachfront Living: Our luxury hotels in Marbella boast prime beachfront locations, offering you direct access to the soft sands and clear waters of the Costa del Sol. Revel in the Mediterranean lifestyle with private cabanas, sun-kissed terraces, and the soothing sound of the sea.
Lavish Andalusian Elegance: Immerse yourself in the opulent ambiance of our select accommodations, where traditional Andalusian charm meets contemporary luxury. Rooms and suites are adorned with handcrafted furnishings, local art, and all the modern amenities that define upscale living.
Gourmet Delights with a Sea View: Indulge in culinary masterpieces as our top-tier hotel restaurants serve up fresh, locally-sourced cuisine with a creative twist. Enjoy alfresco dining experiences that pair the freshest seafood with panoramic vistas of the Marbella coastline.
Oases of Serenity: Discover a sanctuary within the city at our world-class hotel spas. From rejuvenating treatments that incorporate olive oil and sea salt to tranquil pools that beckon for a refreshing dip, these wellness havens are designed to harmonize body and soul.
Bespoke Service and Experiences: Allow our dedicated concierge teams to elevate your stay into an extraordinary experience. Whether it's reserving a round at a prestigious golf course, arranging a private yacht charter, or booking an exclusive shopping excursion, we cater to your every whim with impeccable service.
Nestled between the ritz and glitz of Marbella and the glamour of Puerto Banús, lies a beachfront gem that effortlessly marries luxury and tranquility. This exquisite hotel is a haven of sophistication, offering two stunning pools and a plethora of dining options that promise an intoxicating blend of international and traditional Spanish cuisine. The property, once the private haven of Prince Alfonso von Hohenlohe, now boasts sumptuously appointed bedrooms with private terraces and breath-taking views of the sea or the lush gardens. Golf aficionados will appreciate the complimentary green fee at the Marbella Club Golf Resort, while a short jaunt to Puerto Banús reveals a dazzling array of designer boutiques and gourmet eateries. And at the end of the day, retreat to the Thalasso Spa, where the mesmerizing sea views complement a wide range of treatments. The little ones aren't forgotten either, with a Kids' Club offering an enchanting array of leisure and learning activities.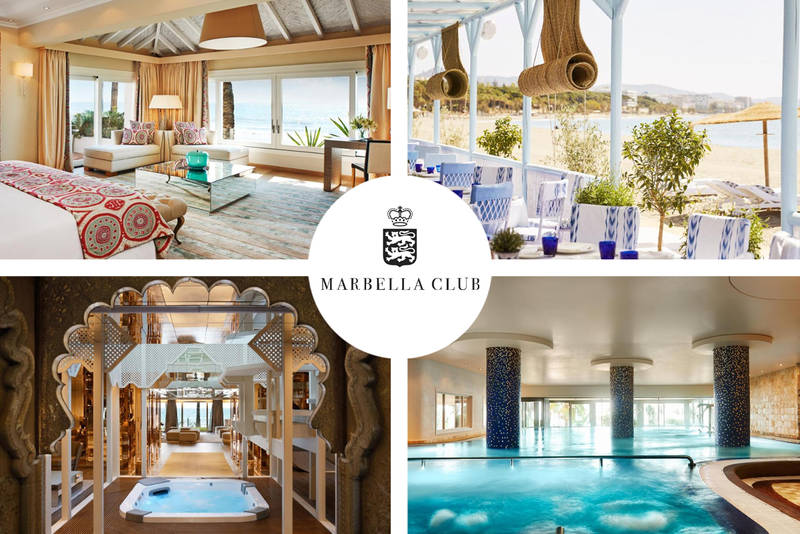 Welcome to the epitome of elegance and modern chic, The Oasis by Don Carlos Resort. This sublime sanctuary is nestled just 6.2 miles from the charming Marbella and a mere 5-minute stroll from the beautiful beach. The air-conditioned rooms are a blend of contemporary furnishings and exquisite decor, complete with a private terrace for those intimate sunset views.Each room is equipped with a flat-screen TV, an iPod docking station, and a private bathroom complete with either a bath or shower. To keep you connected, complimentary Wi-Fi is available throughout the property.One of the major highlights of this resort is the access it offers to outstanding amenities. The Don Carlos Leisure Resort & Spa is an enclave of culinary delights with numerous bars and restaurants, including the seasonal Ombú Thai, nestled within the resort's lush tropical gardens.The Terrasse Cocktail bar is a must-visit for music lovers, boasting live performances and a stunning panoramic view of the sea. For an extra touch of luxury, the resort's private beach club offers a VIP area exclusively for The Oasis by Don Carlos Resort guests.Guests at The Oasis by Don Carlos Resort can indulge in the free access to the Wellness Center spa circuit. For the sporty guests, there are 7 clay tennis courts on site. The resort's main swimming pool is heated and offers complimentary hammocks for those relaxing afternoons under the sun.When you're ready to venture out, the Marbella old town is just 6.2 miles from the resort, and Malaga Airport is a 30-minute drive away. Come and experience a memorable stay at The Oasis by Don Carlos Resort.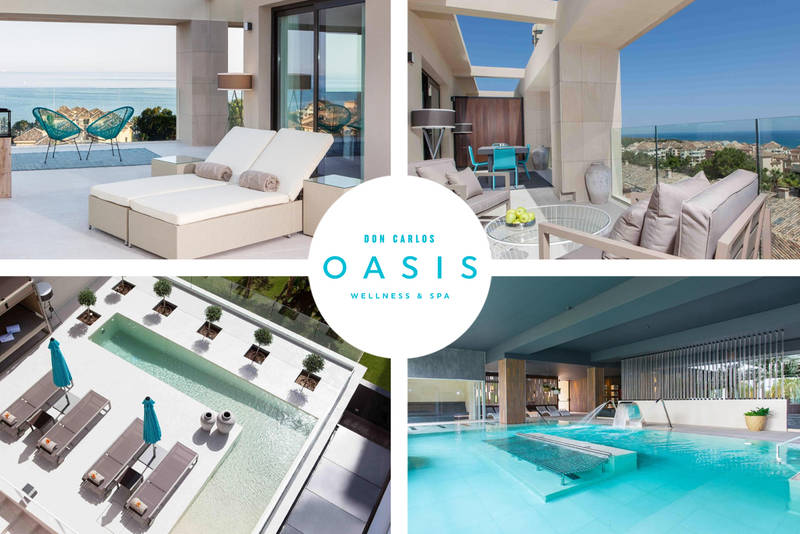 Prepare for a sparkling encounter with the Mediterranean's vibrant soul at the exquisite Puente Romano Beach Resort. Tucked between the verdant vistas of Marbella and Puerto Banus on Spain's sun-drenched southern coast, this captivating sanctuary is a proud member of the prestigious "Leading Hotels of the World". Just a brisk 45-minute journey from Malaga airport, the resort is perched elegantly on the celebrated "Golden Mile". Get ready to be swept off your feet by its Andalusian village-like allure and step into a world of lavishness. Indulge in our refined culinary delights across 15 varied dining and drinking locations. Unleash your vivacious side with our vibrant nightlife or find serenity in our lavish spa and wellness amenities. From alfresco venues to elaborate botanical gardens, not to mention a world-class tennis court, Puente Romano is a treasure chest of experiences. Soak in the good life under the sun at Puente Romano, where every season is a jubilation. Step into a realm of magnanimous hospitality and explore one of Europe's crown jewels.
Tucked away in the heart of Marbella, the 5-star Nobu Hotel Marbella is a hidden gem surrounded by verdant gardens and captivating fountains. Each accommodation offers a breathtaking view of the resort's lively Plaza square, while facilities such as an outdoor swimming pool, a top-notch fitness center, and the vibrant La Suite night club add to the allure. With the famed Plaza de los Naranjos and the nearest beach just a stone's throw away, it's an idyllic sanctuary for those seeking sun and sea. The guest rooms are a luxurious affair, featuring a flat-screen TV, a private bathroom, and a terrace with sweeping views of the bustling La Plaza square. Begin your day with a lavish buffet breakfast at the in-house Nobu Restaurant, famed for its unique Japanese-Peruvian fusion cuisine. With round-the-clock guidance available at the reception, pre-arrival check-in, and close proximity to local attractions and Malaga Airport, convenience is at the forefront of the Nobu Hotel Marbella experience.
Step into the realm of laid-back sophistication and inviting exclusivity at the heart of sunny Marbella. Imagine being immersed in the grandeur of the 5-star El Fuerte hotel, a historic treasure perfectly situated on the beachfront of the enticing Costa del Sol. Its prime location gifts visitors with the mesmerizing spectacle of the sea along Marbella's bustling seafront promenade. The hotel's inviting Mediterranean charm is splendidly embodied in its timeless and elegant interior design, a brilliant work from the acclaimed Chilean designer Jaime Beriestain's studio. Expect nothing less than top-tier gastronomy and professional service that leaves no detail overlooked as you revel in the newly rejuvenated Hotel El Fuerte. This destination has charmed countless guests over the years and continues to ascend to new heights in delivering a truly extraordinary guest experience. The needs of younger guests are thoughtfully attended to with a Kid's Club service available during specific times in the winter season, with potential alterations in the summer. Please be advised that the hotel will be closed for a brief hiatus in September, October, and November, reopening for a fortnight in December.