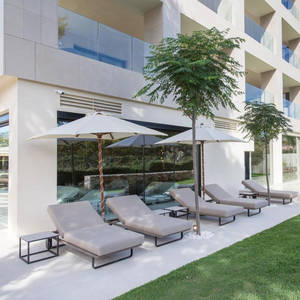 Welcome to the epitome of elegance and modern chic, The Oasis by Don Carlos Resort. This sublime sanctuary is nestled just 6.2 miles from the charming Marbella and a mere 5-minute stroll from the beautiful beach. The air-conditioned rooms are a blend of contemporary furnishings and exquisite decor, complete with a private terrace for those intimate sunset views.
Each room is equipped with a flat-screen TV, an iPod docking station, and a private bathroom complete with either a bath or shower. To keep you connected, complimentary Wi-Fi is available throughout the property.
One of the major highlights of this resort is the access it offers to outstanding amenities. The Don Carlos Leisure Resort & Spa is an enclave of culinary delights with numerous bars and restaurants, including the seasonal Ombú Thai, nestled within the resort's lush tropical gardens.
The Terrasse Cocktail bar is a must-visit for music lovers, boasting live performances and a stunning panoramic view of the sea. For an extra touch of luxury, the resort's private beach club offers a VIP area exclusively for The Oasis by Don Carlos Resort guests.
Guests at The Oasis by Don Carlos Resort can indulge in the free access to the Wellness Center spa circuit. For the sporty guests, there are 7 clay tennis courts on site. The resort's main swimming pool is heated and offers complimentary hammocks for those relaxing afternoons under the sun.
When you're ready to venture out, the Marbella old town is just 6.2 miles from the resort, and Malaga Airport is a 30-minute drive away. Come and experience a memorable stay at The Oasis by Don Carlos Resort.