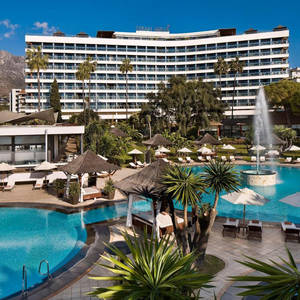 Imagine this, a luxurious oasis overlooking the sea, just a leisurely 15-minute stroll from the charming Marbella Old Town - welcome to the exquisite Hotel Don Pepe Gran Meliá. Nestled on the seafront, this magnificent 5-star hotel boasts not one, not two, but three outdoor pools, all cocooned by beautifully manicured gardens. And let's not forget about the spa...
As you step into your room, you're greeted by large plasma-screen TV and views that will simply take your breath away. Whether you're gazing out at the azure sea, the lush hotel gardens, or the majestic mountains, you're in for a visual treat. Each room is equipped with interactive satellite TV, an electronic safe, a mini-bar, and of course, complimentary WiFi.
As a guest, you'll enjoy complimentary access to the heated indoor pool and gym. Feeling a bit more adventurous? Why not have a go at tennis or paddle on the hotel's courts? Fancy a bit of pampering? The spa is a haven, complete with a Turkish bath, hot tub, sauna, and an array of massages and treatments.
When hunger strikes, you can satiate your appetite with the hotel's grill restaurant, where the steak is legendary, and Mediterranean and barbecue specialties are the order of the day. For lovers of Japanese cuisine, the Tahini Restaurant serves up delectable dishes with a side of sweeping ocean views.
Set on the much-loved Costa del Sol, Hotel Don Pepe Gran Meliá is a stone's throw away from Puerto Banús, only 3.7 miles to be exact. And when you feel like exploring, Marbella's historic old town, with all its charm, is less than 1.2 miles away.