Ski-In/Ski-Out Access to World-Class Slopes: Positioned on the snow-dusted doorsteps of the largest ski area in the world, our luxury hotels in Courchevel offer the ultimate convenience for ski enthusiasts. Glide straight from your room onto the slopes each morning and return to the warmth of a crackling fire as the sun dips behind the mountains.
Alpine Elegance in Every Detail: Revel in the exquisite craftsmanship of our chalet-style accommodations where rustic meets refined. Rich woods, cozy fireplaces, and plush fabrics create a chic yet comfortable setting that mirrors the natural splendor of the French Alps.
Gastronomic Excellence at High Altitudes: Indulge your senses in Michelin-starred restaurants without leaving the comfort of your hotel. Savor artfully prepared dishes that blend Savoyard tradition with contemporary flavors, all paired with a sommelier's selection of fine wines to toast your alpine getaway.
Exclusive Wellness Sanctuaries: Unwind after a day on the slopes in our sumptuous spa and wellness centers. From invigorating massages to soothe sore muscles to heated indoor pools with stunning mountain vistas, our luxury hotels offer a harmonious balance of relaxation and rejuvenation.
Bespoke Alpine Adventures: Our dedicated concierge services extend beyond the expected, crafting personalized experiences that capture the spirit of Courchevel. Whether arranging a moonlit snowshoe excursion, a private helicopter tour, or an après-ski evening of elegance, every aspect of your stay is meticulously tailored to your desires.
L'Apogée Courchevel, a jewel in the crown of the Oetker Collection Hotels, is nestled in the prime location of Courchevel. It offers privileged access to the glistening ski slopes, while also being just a pebble's throw from the famed 3 Valleys Ski Resort and 16 miles from Moûtiers. Guests are lavished with amenities such as a fully stocked ski room and complimentary high-speed WiFi. The hotel rooms are a testament to modern luxury and contemporary style, complete with marble-bedecked bathrooms, baths, and separate showers for that extra touch of lavishness. The suites elevate the experience further with cozy seating areas and panoramic mountain views. Experience the splendor of L'Apogée with its chic smoking room, professional hair salon and exclusive on-site boutiques. The wellness center, home to a Sisley Spa, five treatment rooms, sauna, hot tub, and an indoor pool, offers the perfect retreat. The hotel also boasts the largest kids' club in Courchevel, ensuring ample fun for the younger guests. For those passionate about skiing, the hotel is just 328 feet from the ski lifts, making skiing not just a hobby, but a lifestyle here.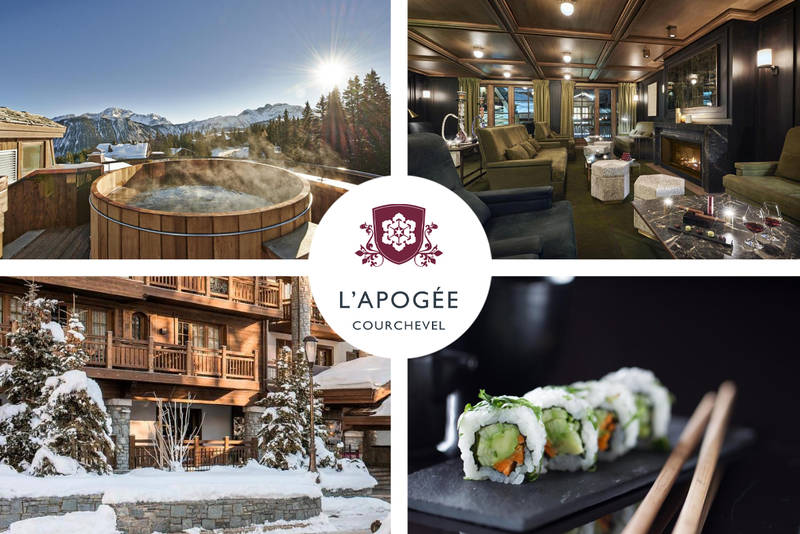 Reimagined in December 2016, the Hotel Le K2 Altitude, cocooned in the heart of Courchevel 1850 in the 3 Valleys, welcomes guests with an indoor pool, a wellness and spa center, and access to free WiFi. With a distinct chalet-style vibe, every room and suite comes with a flat-screen TV, a mini-bar, and a comfy seating area, along with a private bath, hairdryer, and free toiletries. The hotel's Tibetan-inspired decor, featuring original, handcrafted works of art, adds an element of authenticity and grandeur. The hotel houses three unique restaurants, including the two-star Michelin establishment, "Le Montgomerie**". The extensive terrace provides an opportunity to enjoy a delightful lunch while soaking in the stunning views of the ski slopes and mountains. The "Goji SPA" offers a wellness haven complete with a large pool, saunas, hammams, a Nordic bath, and professional therapists. The hotel's concierge services can arrange a variety of activities both on-site and in the surroundings. Situated directly on the ski slopes, the Hotel Le K2 Altitude also provides a seamless ski-in and ski-out experience, with a fully equipped ski shop and ski lessons. The property also includes free parking.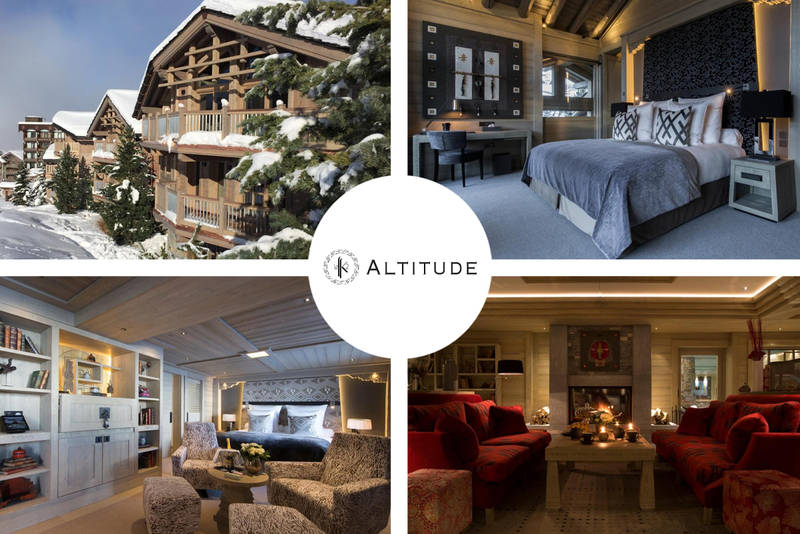 Nestled in the heart of Courchevel, a mere 6 miles from the famed Les 3 Vallées, lies the opulent sanctuary of Airelles Courchevel, Les Airelles. This prestigious 5-star retreat offers more than mere accommodation - it is an experience. Beyond its free private parking, fitness center, and communal lounge, it boasts an indoor pool, a sauna, and even a delightful children's club, ensuring fun for the entire family. The rooms, each fitted with a flat-screen TV and free WiFi, promise a comfortable stay. The mornings greet you with a lavish breakfast spread, while the on-site restaurant tantalizes your taste buds with French and Italian cuisines. Adventure seekers will rejoice in the area's popularity for skiing and hiking, with ski equipment rental readily available. Your every need is catered for, from ironing services to business facilities. And for those eager to venture out, the Casino des 3 Vallées Brides les Bains and Méribel Golf Course are just a short drive away. Airelles Courchevel, Les Airelles, is more than a hotel - it is a haven of luxury and comfort.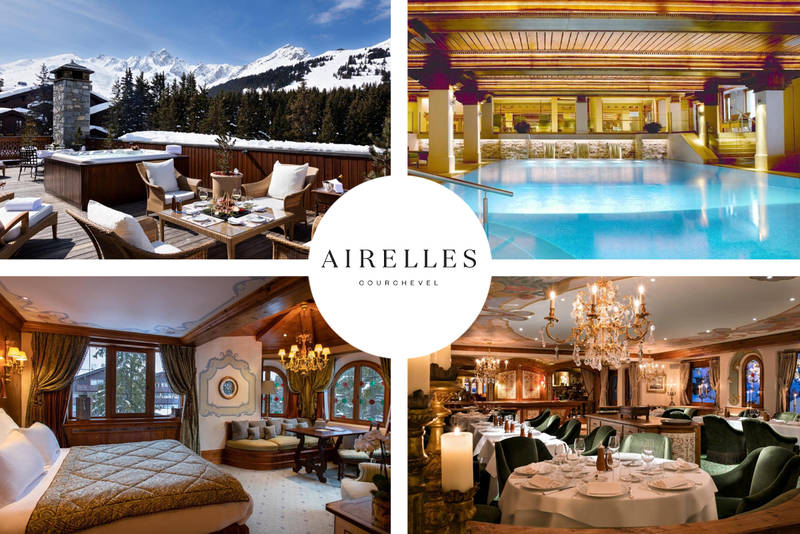 Just a stone's throw away from the bustling Courchevel 1850 ski resort, tucked away in the heart of the action, is the delightful Le Saint Joseph. This refuge of tranquillity offers an escape for those weary from a day on the slopes, complete with a luxurious spa featuring a plethora of beauty treatments, a tanning booth, and a steam bath. For those needing to stay connected, the hotel generously offers complimentary WiFi in every room. Each sanctuary of a room offers a blend of comfort and elegance, complete with mini-bar, safe, and a flat-screen TV offering a selection of satellite channels. For the cuisine connoisseurs, Le Saint Joseph boasts two restaurants, tempting guests with the exotic flavors of Southeast Asia and the hearty dishes of Italy. For those seeking exploration beyond the resort, convenient transportation is readily available, making Le Saint Joseph the perfect base for your alpine adventures.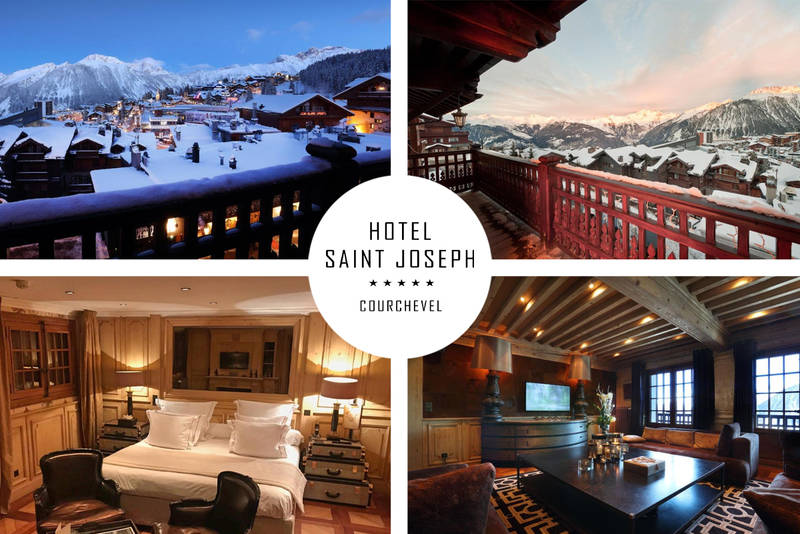 Nestled in the heart of Courchevel 1850, at the foot of immaculate ski slopes, you'll discover the opulent Le Strato Hotel. This luxe retreat boasts a sumptuous 2953 ft² spa, complete with a tranquil pool, purifying sauna, and cutting-edge fitness center. The interiors reflect an air of sophistication and modernity, creating an upscale, contemporary atmosphere throughout. Each room and suite at Le Strato is embellished with sleek, modern decor and warm parquet floors, guaranteeing a stylish and cozy stay. Select rooms even include a separate living area or offer breathtaking slope views, enhancing your overall experience. Food lovers can indulge at the hotel's 1 Michelin star restaurant, serving traditional Mediterranean and Alpine cuisines with a gourmet twist. With an on-site hairdresser and fitness coach, every convenience is at your fingertips to make your stay at Le Strato Hotel beyond extraordinary.