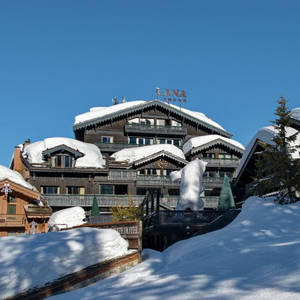 Nestled on the lofty peaks of the Courchevel Resort, you will find a delightful 5-star hotel that boasts a cozy heated indoor pool, a well-equipped fitness center and a luxurious Clarins Spa. The journey to this haven is a mere 16 mi from Moûtiers Train Station.
Each chic guest chamber comes with a handy mini-bar, a sleek flat-screen TV, and complimentary WiFi access. Private bathrooms are stocked with high-end Clarins amenities. A few rooms even offer a balcony for a breath of fresh mountain air.
Le Lana's in-house restaurant serves up a lavish buffet on the sun-kissed southern terrace, providing gastronomical delights for both lunch and dinner. For a laid-back evening, guests can sip on a cocktail in the piano bar, which offers panoramic views of the stunning landscape.
For those keen on skiing, Le Lana has a ski shop conveniently located on the premises, offering ski equipment rental. Additional amenities include a billiards table, games room, and a cinema room for entertainment.
Despite its tranquil location, the resort's luxury boutiques are just a short walk away from the hotel. Private parking is also available on site for a small additional fee.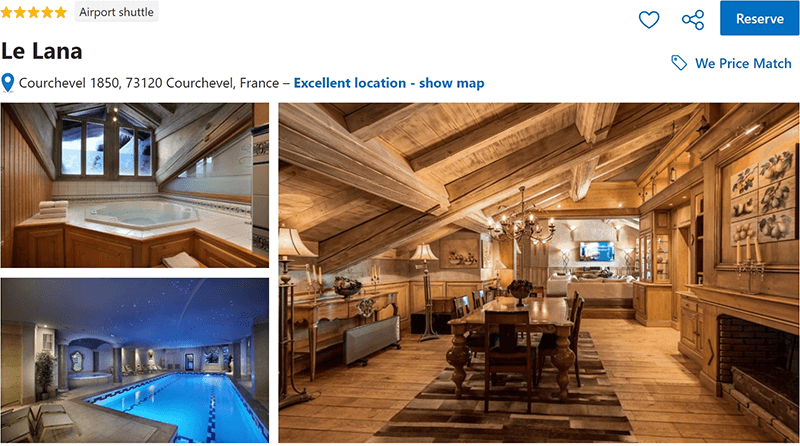 HASHTAGS
#LeLanaCourchevel #LuxuryResort #FrenchAlps #SkiingParadise #MountainEscape #Courchevel1850 #AlpineLuxury #SnowyRetreat #LuxurySkiResort #CourchevelExperience #AlpineAdventure #GourmetGetaway #ElegantEscapes #WinterWonderland #LeLanaExperience