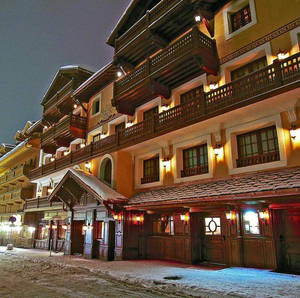 Nestled into the heart of the Courchevel 1850 ski resort, a mere two-minute strut from the closest ski lift, you'll find the charming Le Saint Joseph. A haven for those seeking relaxation after a day on the slopes, Le Saint Joseph boasts a sumptuous spa, complete with a range of beauty treatments, a tanning booth, and a steam bath. To keep you connected, free WiFi is available in all rooms.
Each room is a sanctuary of comfort and luxury, equipped with a mini-bar, a safe, and a flat-screen TV offering a variety of satellite channels. The private bathroom provides an added touch of indulgence, fitted with a bathtub for a relaxing soak.
At Le Saint Joseph, your culinary desires are well catered for with not one, but two restaurants. Le Grand Café tempts with tantalising Southeast Asian cuisine, while San Marci provides a taste of Italy's finest dishes. For those looking for a place to unwind, there is also a bar and lounge area.
Ideal for exploring the area, Courchevel 1850 Bus Station is just 1312 feet from the property. If you're venturing further afield, Moûtiers - Salins - Brides-les-Bains Train Station is just a 35-minute drive away. For those flying in or out, Chambéry Airport is 68 miles away.