Enviable Climate Year-Round: Experience the joy of eternal spring in Adeje,where the sun bestows its warm embrace throughout the year. Book your luxury stay and bask in theperfect weather that graces this corner of paradise, making it an idyllic escape no matter theseason.
Exclusive Beach Access: Select a luxury hotel in Adeje and find yourselfstepping out directly onto the soft, golden sands. Our premium properties offer private beach areas,complete with personal sun loungers and beachside service, ensuring a serene and exclusive seasideexperience.
Gourmet Gastronomy: Savor the flavors of exquisite dining options availableat our luxury hotels. From tantalizing local Canarian cuisine to international dishes prepared byrenowned chefs, your taste buds are set for a delectable journey complemented by sommelier-selectedwines and breathtaking views.
Sumptuous Spas and Wellness Centers: Indulge in ultimate relaxation andrejuvenation when you visit our state-of-the-art spa and wellness facilities. Choose from a range oftreatments designed to pamper you from head to toe, utilizing lush products and techniques thatpromise to leave you feeling refreshed and renewed.
World-Class Golf Courses: Golf enthusiasts will delight in the proximity totop-rated courses, offering challenging play with stunning coastal backdrops. Even if you're not anavid golfer, the pristine landscaping and clubhouse amenities will provide an enjoyable day out inthe fresh Adeje air.
Visualise being cocooned in the opulent suites of an exquisite boutique hotel nestled on the stunning Costa Adeje, each suite boasting a private balcony and personal hot tub. Picture the Grand Hotel Salomé, a haven of tranquility with its calming Spa Sensations, cutting-edge wellness center and modern gym, all with complimentary, high-speed WiFi for uninterrupted connectivity. Imagine lounging by the expansive outdoor swimming pool, surrounded by a sun-kissed terrace and an enticing pool bar. For the sporty souls, a tennis court awaits. The hotel's sprawling outdoor relaxation area, adorned with plush armchairs and commanding sea views is a sight to behold. The hotel restaurant isn't far behind, with a terrace that allows you to dine while soaking in the mesmerizing ocean vistas. Positioned perfectly between Duque and Fañabé Beach in Tenerife, the hotel is an adventurer's paradise, offering an ideal base for diving, golfing and windsurfing. The rooms are a testament to luxury, replete with a flat-screen TV and bathrobe. Just a stone's throw from the beach, the Costa Adeje suites also provide a balcony or terrace and hot tub. This boutique hotel also boasts a large outdoor pool and a stunning infinity pool.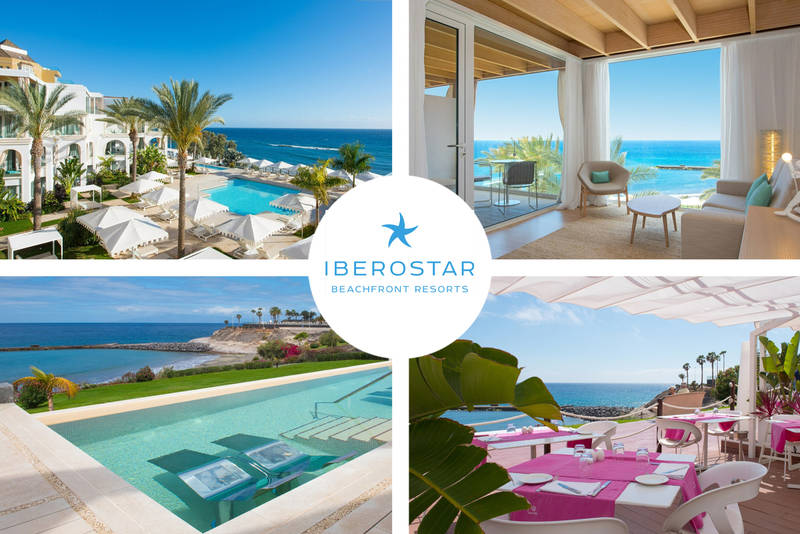 Indulge in the lavish luxury of the Royal River, a sophisticated Adults Only retreat nestled in the heart of Adeje. Boasting a plethora of gourmet dining options, five outdoor pools, a state-of-the-art fitness suite, and sophisticated bars, this escape offers a level of opulence second to none. Each accommodation, from suites to villas, promises a unique sanctuary with private pools, alluringly appointed with modern amenities. Start your day with a delightful breakfast selection and unwind in the serene spa, offering a hammam and a sauna nestled in a lush garden setting. For the more adventurous, the beautiful Playa de Fanabe is just a stone's throw away. With a 24-hour front desk, attentive room service, and an airport shuttle service, every need is met with sophistication and ease at the Royal River.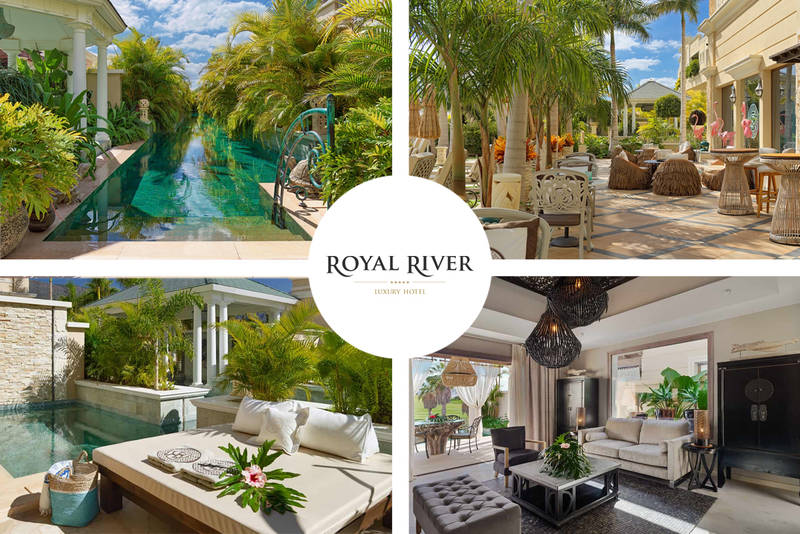 Imagine sipping your morning coffee as you gaze out at the mesmerising ocean from the terrace of your luxury suite at Royal Hideaway Corales Suites in Adeje. Just a stone's throw from the sandy paradise of La Enramada beach, this 5-star haven offers the perfect blend of comfort and convenience with its outdoor swimming pool, complimentary WiFi, and spacious seating areas. Each suite is a mini sanctuary, complete with a well-equipped kitchenette, high-def flat-screen TV, and a private bathroom stocked with complimentary toiletries for that added touch of indulgence. Dining here is a culinary adventure, whether you're sampling international flavours at Starfish, savouring progressive Italian cuisine at Il Bocconcino, or enjoying a laid-back meal at La Trattoría. The multilingual staff, well-versed in German and English, are always at hand to offer insightful local advice. With close proximity to La Pinta Beach, the Plaza del Duque Shopping Center, and Tenerife Sur Airport, Royal Hideaway Corales Suites truly is an idyllic base for your holiday adventures.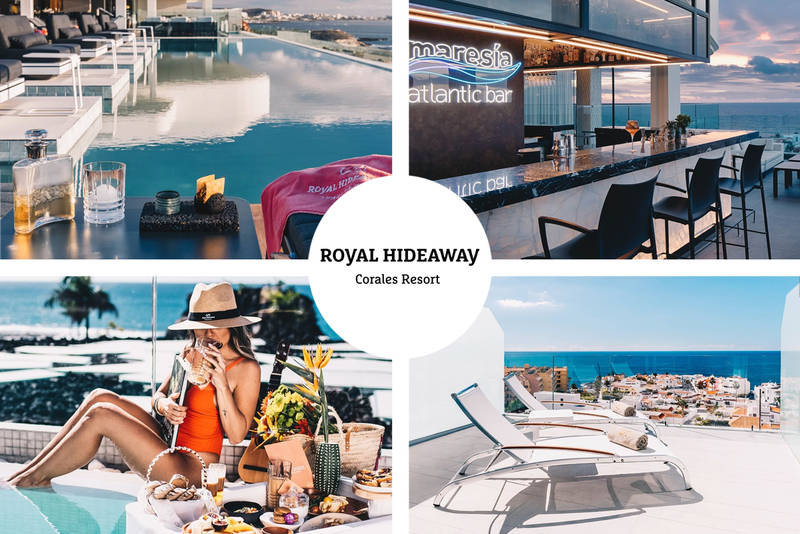 Poised regally above the beautiful Duque Beach, Bahia Del Duque is a haven of opulence in Tenerife, nestled within six hectares of lush subtropical gardens. This oasis of serenity offers five shimmering outdoor pools, an advanced fitness center, and chic accommodations replete with private balconies. Gran Hotel Bahia del Duque Resort pampers its guests with a fusion of contemporary rooms and stylish villas, all featuring LCD satellite TVs and equipped with plush bathrobes and slippers for a touch of added luxury. Not just a place to rest your head, the Gran Bahia del Duque takes gastronomy to new heights with eight distinguished restaurants serving a global culinary journey from Italy to the Orient. The resort also houses seven bars, including a fresh juice bar and a beach bar, perfect for sipping a refreshing drink under the sun. The hotel ensures a variety of leisure activities, from invigorating aerobics classes to thrilling whale watching excursions. Sports lovers can enjoy the tennis and table tennis facilities, while those keen on nature walks can explore the botanical route. Just a quick five-minute drive will take you to the Adeje Golf Course or the Siam Water Park, and with Tenerife Sur Airport conveniently located only 15 minutes away, your travel to and from the resort is as easy as a sea breeze.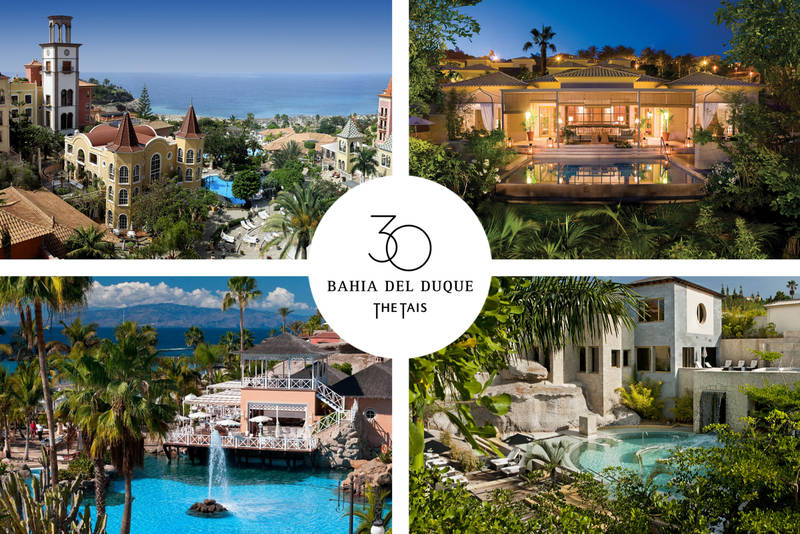 Bask in the opulence of Hotel Jardines de Nivaria, a gem nestled against the stunning Fañabé Beach in the heart of southern Tenerife. You'll be ensconced in a tropical paradise, with verdant, exotic gardens, dual outdoor pools, and a spa that radiates serenity. Each room is a beacon of style and sophistication, equipped with complimentary Wi-Fi, private balconies, and air conditioning. The decor is a contemporary nod to modern elegance, while tiled floors add a touch of class. The hotel offers a myriad of leisure facilities, including golfing, tennis, and a fitness center. The spa, complete with a sauna, steam bath, and a Vichy shower, is your passport to relaxation. As a part of the esteemed Adrian Hotels in Tenerife, Hotel Jardines de Nivaria delivers a lavish buffet breakfast, a poolside bar, and three restaurants that cater to every palate. The Cúpula Restaurant, crowned with a spectacular stained-glass dome, is a feast for the eyes as well as the taste buds. For golf lovers, three courses are just a ten-minute drive away, while Tenerife Sur Airport is a swift 15-minute journey. A stay at this hotel is the epitome of luxury and convenience.