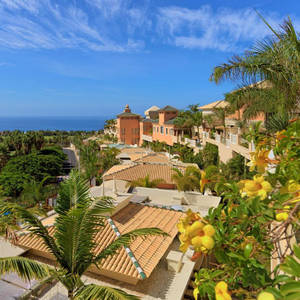 Imagine yourself in a lavish, 5-star resort that boasts exquisite, Balinese-inspired villas, each equipped with a private heated pool. Nestled amidst lush gardens, Royal Garden Villas not only provides you with a gym and a spa but also promises breathtaking views of the ocean.
Every villa is a spacious sanctuary, adorned individually with chic decor and fine wooden furniture. Each comes with a terrace for you to lounge on, a 40-inch flat-screen TV for entertainment, a DVD player, and a kitchen that has everything you need. To add a touch of luxury, every villa features a hydromassage shower and bath.
At the Royal Garden's Jardín Restaurant, you can indulge in à la carte cuisine or relish a selection of Spanish dishes. The stylish environment, decorated with intricate wooden lattices, enhances the dining experience. For a more relaxed setting, the Tucán Tucán Pub offers a variety of cocktails and light snacks.
The Golden Pond spa, with its Oriental-style design, invites you to unwind. It features an indoor pool, Turkish baths, a hot tub, an ice fountain, and a menu of beauty treatments. For the active ones, a squash court and gym are at your disposal.
Beyond the resort, Royal Garden is ready to enrich your holiday. It can arrange yacht hire, book green fees for local golf courses, and plan various excursions. You can set sail to the island of La Gomera or explore the scenic town of Puerto de la Cruz. The options are endless.