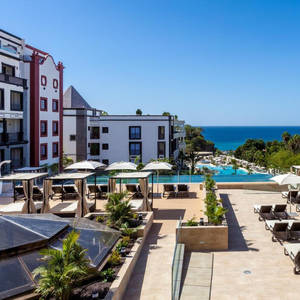 Imagine lounging on Duque Beach, where the luxurious Gran Tacande Wellness & Relax Costa Adeje hotel graces your surroundings, gazing out towards the mystical island of La Gomera. This opulent retreat is nestled amidst two captivating outdoor swimming pools, a haven of relaxation and indulgence.
With its radiant, inviting décor, the Gran Tacande captures the heart with its expansive rooms that afford views of either the majestic surrounding mountains or the meticulously tended hotel gardens. For a taste of the ocean, some rooms offer spectacular sea views. The exclusive Gold Level rooms go a step further, providing privileged access to the private San Sebastian Exclusive Plaza area, which boasts an infinity pool and an 8-seater whirlpool.
For the gastronomes, the Zurrón Buffet Restaurant offers a dazzling array of International and themed culinary delights, whilst the Bocana Beach Club is a Mediterranean gastronomic paradise. Both dining havens extend onto terraces where one can feast their eyes on the expansive ocean views. And for that twilight cocktail, the Gran Tacande hosts a rooftop cocktail bar, the Azotea Sunset Bar.
The hotel's spa is a sanctuary of tranquillity, offering hydrotherapy, massage and an array of beauty treatments at an additional cost. Fitness enthusiasts can avail of the complimentary gym, and there's even a hairdresser's to ensure you look your best.
The surrounding Playa de Fañabe resort unveils a selection of shops and bars to explore. And for golf enthusiasts, the Costa Adeje Golf Resort is just a 15-minute drive from the Gran Tacande.