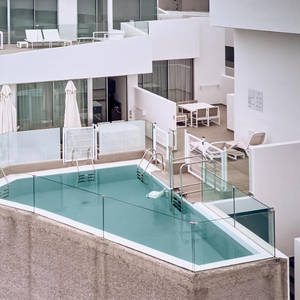 Nestled a mere 10-minute stroll from Duque Beach in the residential haven of Costa Adeje, Hotel Baobab Suites is a luxurious retreat featuring not one, but two heated outdoor pools, a sun terrace, and the delightful Saplings Kids Club and Squash. The hotel's décor is a masterclass in modern elegance, showcasing a crisp white palette complemented by expansive windows that bathe each suite in natural light.
Each radiant suite is complete with a lounge-dining expanse equipped with a flat-screen TV, a perfect setting for a relaxing evening. The kitchen, meanwhile, brims with all the comforts of a home, including an oven, microwave, dishwasher, and washing machine. The hotel ensures a seamless digital experience with complimentary WiFi throughout the property.
Guests are greeted with a delightful welcome package upon their arrival. The hotel presents three breakfast options for a perfect start to your day. Opt for a breakfast box delivered to the privacy of your suite, or savour a hearty breakfast at the Bite Buffet restaurant.
A leisurely 15-minute walk from Hotel Baobab Suites takes you to the vibrant centre of Costa Adeje, home to an array of restaurants, bars, and shops. The hotel's on-site Activate sports and leisure center serves up a tantalising array of activities including spinning, pilates, yoga, meditation, and beach volleyball. Paddle tennis courts and boules are also available for guests seeking a more relaxed form of leisure.
Indulge in the hotel's Wellness and Beauty Center, where treatments are centered on the ancient wisdom of Ayurveda. For those seeking to explore further afield, the majestic Teide National Park is merely a 45-minute drive away. Tenerife South Airport is conveniently located just 20 minutes away from the hotel. As a final touch, free private parking is available for guests.