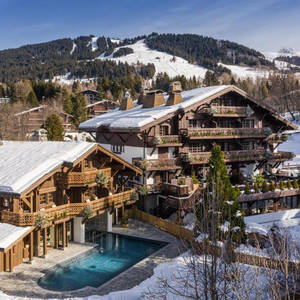 Nestled in the beating heart of the Mont Blanc Region, you'll stumble upon the gem that is Les Chalets du Mont d'Arbois. This 5-star haven has found its home just a brief 7 minutes' drive from the vibrant centre of Megève, and an even shorter jaunt of 1640 feet from the Mont d'Arbois pistes and the esteemed Golf Club. The property boasts rooms spread across its three charming chalets, complete with a spa centre and a pool for your pleasure.
The rooms at Les Chalets du Mont d'Arbois are a delightful blend of authenticity and comfort, each offering stunning views of the valley or mountains. To enhance your stay, you'll have access to complimentary WiFi and room service at your leisure.
For the discerning foodie, the hotel's Prima restaurant promises a gastronomical adventure you won't soon forget. Further exploration in the vicinity reveals four more eateries, each offering a smorgasbord of mouthwatering dishes to tempt your palate.
For those in search of relaxation or rejuvenation, the spa at Les Chalets du Mont d'Arbois is a sanctuary that features a sauna, hammam, and hot tub. Fitness enthusiasts will appreciate the gym, and the indoor and outdoor swimming pools that are heated throughout the year. During the French summer and winter school holidays, children can have a blast at the kids' club.
To ensure your stay is seamless, a daily shuttle service is provided, whisking guests off to the nearby ski slopes, golf course, and also to the village. Geneva airport is conveniently located a 45-minute drive away, while the Sallanches TGV Train Station is a mere 10-minute drive from the property.