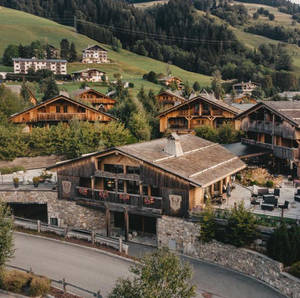 Perched high in the French Alps, the Beaumier's L'Alpaga offers more than just stunning views of Val d'Arly and Mont Blanc. This exquisite hotel combines the allure of Michelin-starred dining, south-facing balconies, and the luxury of self-catering apartments and chalets.
The interiors evoke a sense of tranquillity with their cool, neutral tones, and each room and apartment offers breathtaking views of the surrounding mountains. Modern amenities such as flat-screen satellite TV and complimentary WiFi are standard. The apartments and chalets offer fully-equipped kitchens, complete with microwave and dishwasher. For those seeking an extra touch of indulgence, a private chef service is also available, subject to availability. The chalets also provide a cosy fireplace, private garden and garage upon request. Accessibility is a priority, with two rooms specially equipped for wheelchair access.
For gastronomy enthusiasts, dining at the two-Michelin-starred "La Table de l'Alpaga, a Beaumier hotel" is a must. Seasonal, gourmet dishes are the specialty here. Alternatively, "Le Bistrot de l'Alpaga, a Beaumier hotel" offers a more casual dining experience. In the warmer months, meals can be enjoyed on the outdoor sun terrace.
Adventure seekers will find no shortage of activities, with skiing, rafting, climbing, paragliding, fishing and hiking all available nearby. The hotel even offers ski passes for sale. For those seeking a more leisurely experience, the on-site fitness center and meeting room, which opens onto a beautiful garden, are the perfect places to relax.
Access to Beaumier's L'Alpaga is easy via the A40 motorway. Nestled in the charming village of Megève, the hotel is just 9.3 mi from Passy. The resort provides a complimentary shuttle service from the hotel to the city center, operating from 08:00 to 23:00 in winter and from 10:00 to 20:00 in summer.