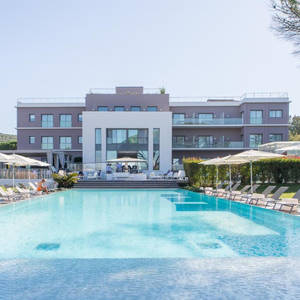 Set in the heart of St-Tropez, the Kube Hotel Saint-Tropez represents an unparalleled blend of elegance and technology, marking itself as the first luxury technological resort in this picturesque town. This mini resort comes with an array of amenities, including a fitness room, treatment rooms, and not one, but three swimming pools – with two being heated for those cooler days.
Surrounded by lush pinewoods, the Kube Hotel Saint-Tropez offers its guests breathtaking panoramic views of the Gulf of Saint Tropez. The hotel is nestled within a 2-hectare landscaped park and boasts of designer rooms and suites, each exuding a unique atmosphere.
Of these, 43 rooms showcase a modern design, forming the first atmosphere. The second atmosphere is spread across 5 villas, home to 27 other rooms, which are decorated with raw, natural furniture, setting a rustic yet chic tone.
The resort houses a restaurant, Daki Daya, which offers a revamped take on classic Provencal cuisine, accompanied by a diverse range of wines from its extensive cellar. For those who like to keep fit on their holidays, the hotel also features a fitness room with top-of-the-line training equipment.
Guests can also pamper themselves at the on-site spa or the hair salon managed by Franck Provost. The hotel offers a shuttle to take guests to the town center, ensuring convenience is at your fingertips. Moreover, charging stations for electric cars are available, adding to the hotel's commitment to a greener future.