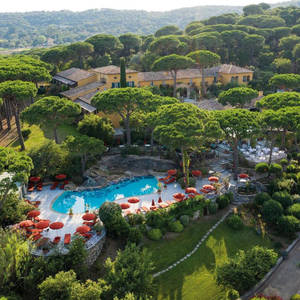 Perched on the glittering French Riviera and gazing down upon the stunning Bay of Pampelonne, you'll find the exquisite Hôtel Villa Marie Saint Tropez. With the added luxury of a complimentary shuttle to the iconic St. Tropez, you're never far from the glamour and excitement this region offers.
Boasting an outdoor heated pool and an inviting sunbathing terrace, Villa Marie is the epitome of luxury. Each guest room within the villa is a unique haven, brimming with individual character and equipped with a private bathroom, plush sofas, TV and complimentary WiFi. In addition, each room opens onto a charming patio or lush garden, allowing guests to fully immerse themselves in the tranquil surroundings.
This 5-star hotel is nestled within a vibrant Provencal garden, providing the perfect backdrop for relaxation. Guests can enjoy a refreshing drink in the garden or at the hotel bar.
As well as offering a range of relaxation and massage therapies, the hotel also houses a fitness room for the more active guests. The culinary delights of the Villa Marie are not to be missed. The hotel's elegantly designed restaurant serves regional specialties and gourmet cuisine. Alternatively, guests can dine on the terrace, which offers breathtaking panoramic views of the sea.
Perfectly located, the Villa Marie is just 1.9 mi from Saint Tropez, where guests can explore the bustling marina and the intriguing St-Tropez Museum. For beach lovers, the beautiful beaches near Pampelonne are a mere 2.5 mi from the hotel.