Perched on a precipice amid the stunning Amalfi Coast, Villa Treville boasts lavish chambers and suites that offer breathtaking views of the Tyrrhenian Sea. This opulent establishment offers complimentary access to a private beach and gym, along with free Wi-Fi for all guests.
Each room, uniquely adorned and equipped with a private bathroom, offers air-conditioning, a personal balcony, and a seating area. In addition, guests will find a complimentary minibar and a flat-screen TV to enhance their stay. Select rooms even offer a quaint private pool and terrace for an extra touch of luxury. Complimentary access to the bar and club lounge is included with every room.
Guests can kickstart their day with a well-rounded breakfast offering an extensive variety of sweet and savory delicacies. The restaurant is well-equipped to prepare a range of meat and vegetarian dishes, along with fresh seafood options for the discerning palate.
Villa Treville is spread across four standalone structures nestled in a sprawling 5-acre estate. Guests can unwind in the lush gardens or relish a cocktail and snack in the Club Lounge bar, which also boasts a terrace.
The property is ideally located just a 15-minute stroll from the heart of Positano and a mere 10.5 miles from Sorrento. Guests can also take advantage of direct access to the beach via an elevator carved into the cliff, or through marked walking trails for the more adventurous.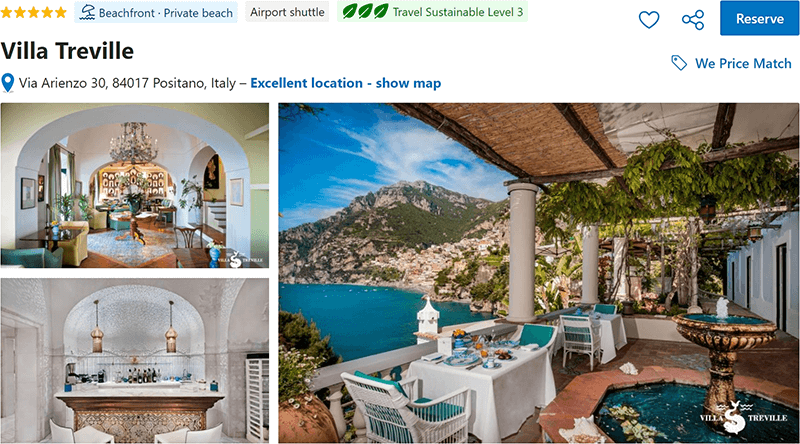 HASHTAGS
#VillaTreville #PositanoItaly #ItalianVilla #AmalfiCoast #LuxuryVilla #PositanoViews #SeaView #ItalianEscape #PositanoParadise #VillaLife #AmalfiCoastLove #PositanoLuxury #TrevilleVilla #ItalianGetaway #AmalfiCoastline