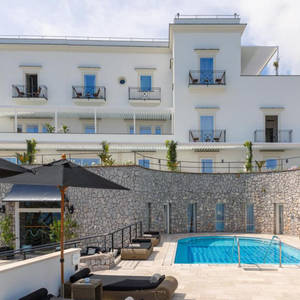 Immerse yourself in the bygone elegance of the early 1900s, Villa Marina Hotel and Spa gracefully delivers an opulent stay in an unrivalled location, a stone's throw from Capri's Marina Grande. Find yourself enveloped in the beauty of the sprawling gardens, showcasing breath-taking vistas over the Bay of Naples. This palatial haven is conveniently situated close to all the island's must-see spots and the largest beach.
A mere 5-minute stroll will lead you to the funicular, your gateway to Capri's renowned Piazzetta - the island's hub for exclusive shopping, divine dining, and sophisticated cocktail lounges.
At your disposal are the hotel's exceptional facilities, promising the pinnacle of relaxation. 'Stai', the on-site wellness center, provides an extensive array of treatments, fusing the modern with the traditional to ensure your ultimate comfort. And let's not forget the delightful outdoor plunge pool for your leisurely dips.
Rooms are sumptuously furnished and entirely distinctive, each one a tribute to various influential figures from the 19th and 20th centuries who contributed to the rich cultural and intellectual tapestry of Capri.
Experience gastronomic delight at Ziqù Restaurant, where contemporary meets traditional in a harmonious fusion of regional dishes and Mediterranean flavors. All set within a beautiful ambiance, it's the perfect setting for a romantic meal.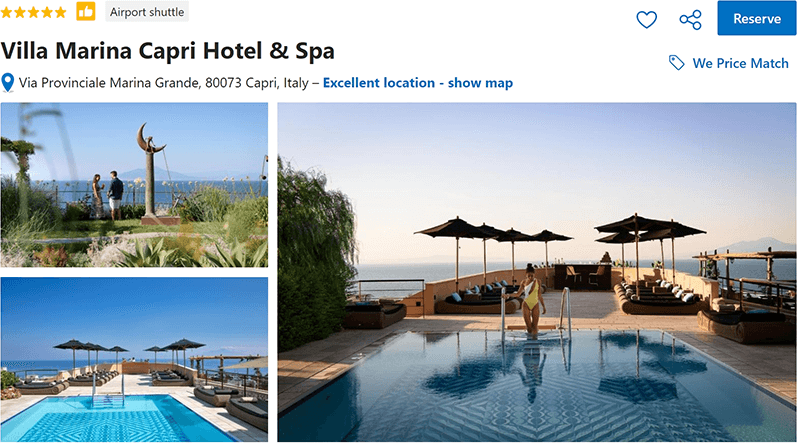 HASHTAGS
#VillaMarinaCapri #CapriExperience #LuxuryLifestyle #ItalianElegance #CapriIsland #SpaRetreat #ItalianGetaway #LuxuryHotelCapri #IslandRetreat #UnwindInCapri #MediterraneanLuxury #CapriEscape #VillaMarinaHotel #CapriSpaExperience #CapriParadise