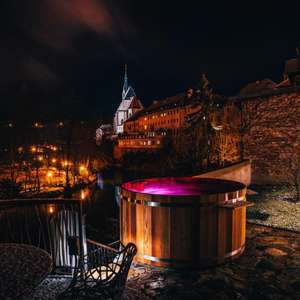 Immerse yourself in the heart of Český Krumlov at the opulent Ultra premium apartments. This exclusive destination is more than just a place to rest your head - it's a gastronomic delight with a restaurant and bar, and an architectural gem with a stunning terrace. The best of Český Krumlov is at your doorstep, with both Castle Český Krumlov and the Main Square a mere stone's throw away.
Every apartment is a haven of luxury and comfort, complete with a welcoming seating area, a sleek flat-screen TV complete with satellite channels, and a private bathroom filled with complimentary toiletries. Indulge in the convenience of a fully stocked fridge and minibar, and the simple pleasures of a coffee machine and kettle.
Start your day with an exquisite à la carte breakfast, available daily at the aparthotel. And when you're ready to explore, the surroundings offer myriad possibilities. Whether you prefer hiking, skiing or cycling, adventure is never far away.
Further afield, Přemysl Otakar II Square is a comfortable 25 km journey, while the unique Rotating Amphitheatre is just 1.3 km away. The nearest airport is Linz, 83 km from the accommodation, and for those seeking ultimate convenience, a paid airport shuttle service is available from the property.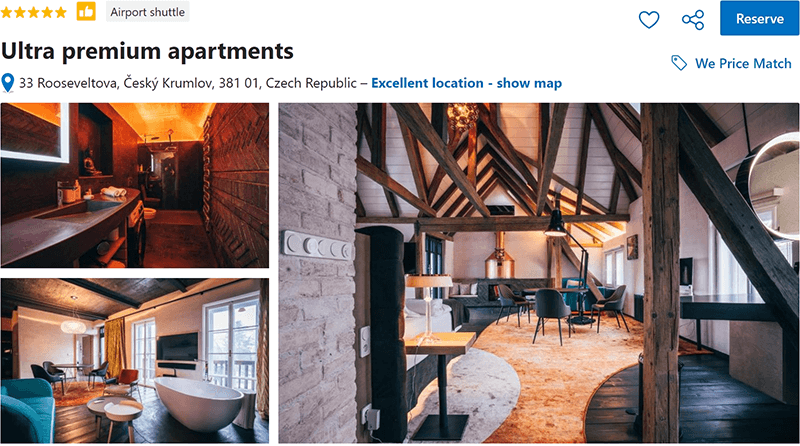 HASHTAGS
#UltraPremiumApartments #ČeskýKrumlovStay #LuxuryLiving #ČeskýKrumlovLuxury #EliteAccommodation #HighEndLiving #PremiumStay #LuxuryApartmentsČeskýKrumlov #CzechRepublicLuxury #ElegantLiving #ČeskýKrumlovExperience #LuxuryTravelCzech #UpscaleApartments #PlushStay #ČeskýKrumlovApartments