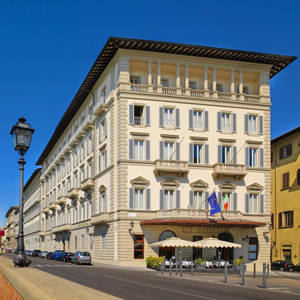 Positioned splendidly along the scenic Arno River and offering breathtaking views of the iconic Ponte Vecchio, The St. Regis Florence is a stunning sight to behold. Housed in a historical edifice crafted by the renowned Brunelleschi, it's a tantalising taste of Florentine history. This five-star gem is not limited to its exterior grandeur and location; it houses a restaurant and a spa, a gym, and luxurious rooms adorned with antique furnishings.
Each room at the St. Regis is a true testament to Florentine style, with furniture that echoes the city's rich history. Marble bathrooms add a touch of elegance, while the multimedia system offers a variety of films, sports, and entertainment. To top it all off, a digital jukebox is at your disposal, and WiFi is complimentary throughout the premises.
Start your day right with a buffet breakfast available daily and indulge in modern Tuscan and Mediterranean dishes at the hotel's Winter Garden restaurant. As the evening draws in, the bar becomes the perfect spot to unwind with the famous evening ritual, accompanied by contemporary finger food masterfully prepared by chef Gentian Shehi.
Just a short distance away, you'll find the Santa Maria Novella Train Station, a mere 1640 feet from the property, and the awe-inspiring Cathedral just 0.6 mi away. This hotel is not just a place to stay, it's an experience of Florence in its entirety.