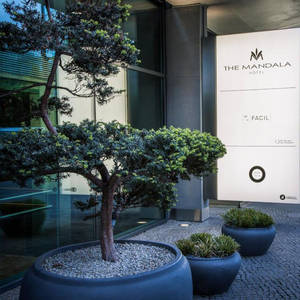 Located in the heart of Berlin, this 5-star design hotel offers the ultimate in stylish accommodation with a selection of studios and suites, each complete with kitchen facilities. Situated directly across from the Sony Center in Potsdamer Platz, this hotel is a testament to elegance and sophistication, offering a state-of-the-art spa, complimentary WiFi and a double Michelin-star restaurant, all available for the discerning guest.
The Mandala Hotel provides non-smoking rooms and suites, all which boast views of either the tranquil hotel courtyard or the cutting-edge architecture of the buildings at Potsdamer Platz. Nestled on the upper floors of the building, these rooms provide a serene escape from the bustling city below, equipped with flat-screen TVs, air conditioning, and the finest linen and bedding.
For those seeking relaxation and rejuvenation, the modern ONO wellness area features a fitness lounge, as well as a selection of massages and beauty treatments. Dining at the hotel is an experience in itself, with the FACIL restaurant holding a listing in Gault Millau and now also proudly boasting 2 Michelin stars for 2016. Offering a daily breakfast and a range of gourmet evening meals, it promises a culinary journey like no other.
For a more casual dining option, guests can enjoy drinks and snacks at the QIU Restaurant & Bar, or soak up the summer sun on the outdoor terrace. With the Brandenburg Gate just a 10-minute walk from the hotel, and Potsdamer Platz Station only 100 metres away, guests are perfectly positioned to explore all that Berlin has to offer.