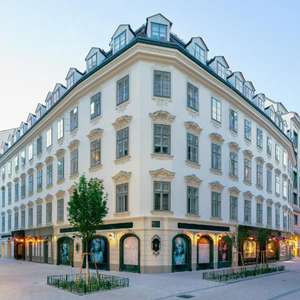 Imagine nestling yourself in the heart of Vienna, just a breath away from St. Peter's Catholic Church, in the embrace of The Leo Grand. This haven of luxury, a 5-star establishment, doesn't merely promise room service and concierge service, but delivers them with a level of finesse that is to be admired. The property is strictly non-smoking and is a mere hop, skip, and jump from the iconic St. Stephen's Cathedral.
Each room in this hotel is a world unto itself, offering air conditioning, a seating area for those quiet moments of reflection, a flat-screen TV with satellite channels for your entertainment, a safety deposit box for your peace of mind, and a private bathroom complete with a shower, complimentary toiletries, and a hairdryer. At The Leo Grand, every room is meticulously prepared with fresh bed linen and towels, emphasising the attention to detail that sets it apart.
Every morning, the property comes alive with the aromas of an à la carte, continental or American breakfast. And the gastronomic journey doesn't end there. The in-house restaurant serves a tantalising array of Austrian and international cuisine, catering to various dietary needs with vegetarian, dairy-free and vegan options available upon request.
The staff at The Leo Grand, fluent in Bulgarian, German, Greek, and English, are at your service around the clock, ensuring that your every need is met. The hotel is conveniently located close to popular attractions like the Vienna Volksgarten, House of Music, and Hofburg. And for those travelling by air, the Vienna International Airport is a comfortable 18 km away. Welcome to The Leo Grand, where hospitality meets elegance.