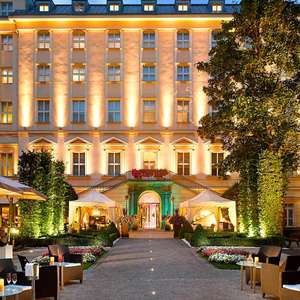 Imagine stepping into the heart of Prague, where time has been kind, preserving a 17th-century residential palace, transformed into a beacon of luxury - The Grand Mark Prague - The Leading Hotels of the World. The moment you enter, you are greeted by an undeniable elegance that interweaves the past and present in a seamless dance. This is more than a hotel; it's a love letter to tradition and modern design.
Each room within this gem of the Golden City feels more like a grand residence than a simple hotel accommodation. Most feature a separate living area, complete with a fully-equipped kitchenette and a seating area designed for comfort. The large bathrooms, with their heated floors, add a touch of decadence, while the views - be it the beautiful garden or the bustling street - are a feast for the eyes.
Each morning, a generous buffet breakfast awaits, a smorgasbord of local, organic and homemade delights. For those with a discerning palate, the Le Grill Restaurant promises an epicurean journey through Czech and international cuisine. The Two Step Bar and the Garden Restaurant offer a more casual atmosphere for those who prefer a relaxed dining experience. And to start your adventure on the right note, a welcome drink, on the house.
Keeping fitness enthusiasts in mind, the hotel offers 24/7 access to a fitness centre, included in the room rate. But what truly sets The Grand Mark Prague - The Leading Hotels of the World apart is its location. This is the perfect setting for honeymoons, romantic city breaks, or simply unforgettable weekends. And the hotel's extraordinary 1800 m² private courtyard garden is poised to become Prague's premier venue for dining and unforgettable occasions.