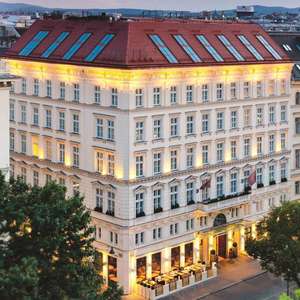 Imagine a place where elegance meets modern design, right in the heart of Vienna. Picture yourself stepping into the Amauris Vienna - Relais & Châteaux, an oasis amidst the hustle and bustle of the city, located on the renowned Ringstraße boulevard, just a stone's throw away from the State Opera. The whole hotel is a digital haven, with complimentary WiFi access available everywhere.
Our boutique hotel is tucked between the Vienna State Opera and the Musikverein concert hall on the historic Ring Boulevard. It serves as your golden ticket to Vienna's rich culture, allowing you to explore opulent palaces, world-class museums, celebrated restaurants, traditional coffeehouses and lively shopping districts. After your cultural immersion, return to the Amauris for a hefty dose of five-star pampering.
Our executive Chef, Alexandru Simon, is a culinary maestro who seamlessly blends Vienna's cultural heritage with exciting new flavours. Dining at our Restaurant Glasswing is a gastronomic journey, presenting a perfect blend of innovation and tradition that is quintessentially Viennese. Whether the ingredients are sourced locally or from seas afar, Chef Simon's commitment to quality is unwavering.
Take a break from the city's bustle in our spa, a haven designed for relaxation. Every detail here is meticulously planned, from the soothing colour palette, calming scents, to the serene background sounds. It's not just a spa, it's an experience designed to rejuvenate your body and spirit.
Relieve your stress in our steam room or Finnish sauna, then cool down at the ice fountain before taking a dip in our pool, located in the heart of the Amauris's courtyard. With massage jets, a counter-current system, and a glass roof overhead for a scenic swim, it's the perfect way to unwind.
Despite its modern amenities, the hotel retains its historic charm, with a 19th-century façade and features like the listed lift. For those attending events, the Hofburg Congress and Event Centre is conveniently located just a 10-minute walk away.