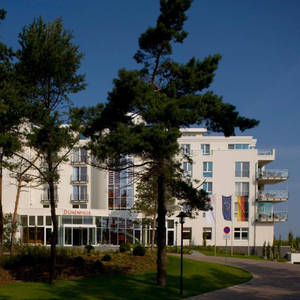 Imagine yourself in an exquisite 5-star Superior hotel that promises modern rooms, luxurious suites and self-contained apartments along with an extensive spa area. Picture this idyllic place nestled within its own breathtaking coastal gardens in Dierhagen, boasting panoramic views of the Baltic Sea.
The Dünenmeer Hotel & SPA invites you to choose from a selection of alluring rooms and suites, as well as self-catering dune apartments that can comfortably house up to 4 guests. When the weather is kind, breakfast is served on the terrace, and you can indulge in delightful refreshments on the dune decking while drinking in stunning views of the Baltic Sea.
The spa area at the Dünenmeer, spanning a generous 1500 m² and situated right next to the sand dunes, features a grand swimming pool (6 x 12 metres), a sauna area with diverse bathing options, a relaxation lounge and a tranquil room complete with a fireplace. Please note, guests must be at least 16 years of age to utilise the spa facilities.
Spa guests are encouraged to unwind in their bathrobes while savouring healthy drinks and light meals in the SPA bistro. For those with a sweet tooth, the in-house patisserie tempts you with fresh bread and delectable baked goodies.
The restaurant, with its stylish ambiance, serves fresh, creative cuisine made primarily with regional products. Meanwhile, the cosy bar offers an array of exotic cocktails and fine wines to round off your day in the most delightful way.