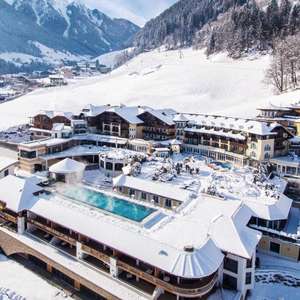 Imagine a world of tranquillity nestled within the quaint village of Finkenberg, residing in the heart of the Ziller Valley. In this picturesque corner of the Tyrolean Mountains, the Stock Resort stands as a haven of luxury and comfort. A hushed sanctuary, it offers an expansive 5000 m² spa area for a truly indulgent experience.
Each room and suite is a spacious delight, offering breathtaking views of the surrounding mountain scenery. With cosy seating areas, a starry sky, cable TV, sizeable bathrooms, and a king-size bed, you'll feel right at home.
Full-board includes an organic breakfast buffet, an afternoon feast in the fireplace lounge or on the panorama terrace, and a 6-course dinner. The resort's gourmet restaurant also offers complimentary non-alcoholic beverages, freshly-squeezed juices, and Memon-vitalized water throughout the day. In the sprawling garden area, you'll find refreshing towels, fruit skewers, ice cream, and cocktails at your disposal.
Guests can unwind in the sprawling spa area, home to a variety of saunas and pools, with a wide range of beauty and health treatments available. Fitness enthusiasts will appreciate the fully equipped and modern 190 m² fitness centre, accessible free of charge. Children are also catered for, with an aqua park boasting a 70-metre long water slide and a children's club with supervision.
The Stock Resort offers a wealth of outdoor activities. Guests can participate in guided themed hikes and ski tours in the Ziller Valley or the adjacent Tux Valley, rent a mountain bike for free, or try out the nearby tennis courts. For ski enthusiasts, the Zillertal 3000 ski lifts are just a 5-minute journey from the resort.