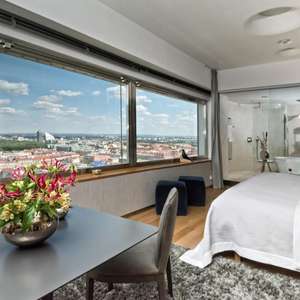 Perched in the heart of Prague, a mere 1.7 km from the historical marvel that is the National Museum of Prague, you'll find the exquisite SKY SUITE HOTEL. This 5-star haven offers more than just a place to rest your head. It boasts a tranquil garden, complimentary private parking, an on-site restaurant and a cosy bar. But it doesn't stop there. It also provides room service, an ATM, and even allergy-free rooms.
Each room at the hotel is a haven of luxury. Indulge in the comfort of air conditioning, entertain yourself with a flat-screen TV complete with satellite channels and a Blu-ray player, and enjoy the privacy of your own bathroom, fitted with a bidet, complimentary toiletries and a hairdryer. And for the coffee lovers and tech-savvy among you, all rooms in SKY SUITE HOTEL come equipped with a coffee machine and a computer.
Wake up each morning to a delightful breakfast, offering a range of options to suit all dietary needs - from continental to vegetarian and vegan. As the day unfolds, why not relax on the sun terrace and soak up some rays?
A mere 4.5 km will take you to the Prague Astronomical Clock, while the Old Town Square is just a short 4.6 km journey. For those flying in, the nearest airport is Vaclav Havel Prague, a convenient 15 km from the hotel. And to make your journey even easier, the hotel offers a paid airport shuttle service.