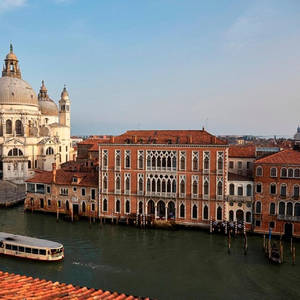 Perched majestically on the edge of the Grand Canal, adjacent to the exquisitely beautiful Basilica of Chiesa of Santa Maria della Salute, the Centurion Palace opens its doors to a world of 5-star opulence in the heart of Venice. The hotel's private courtyard becomes a haven for guests, offering a selection of refreshing beverages in a serene setting.
Originally built in 1892, the property seamlessly marries its historical charm with a modern aesthetic. A contemporary gym and a private dock for water taxi arrivals add an extra layer of convenience and luxury. And you'll find the Salute Vaporetto (water bus) stop conveniently located just a stone's throw away.
Step into the elegantly adorned rooms, tastefully painted in soothing neutral hues. Original wooden-beamed ceilings and polished hardwood floors add a touch of old-world charm. Each room is air-conditioned, equipped with a minibar and a flat-screen TV, promising a comfortable and luxurious stay. Modern bathrooms complete with plush bathrobes and slippers further enhance the lavish experience.
Wake up to a lavish buffet breakfast at the Centurion Palace, with a spread that includes both sweet and savoury delights. Indulge in the selection of eggs, smoked salmon, a variety of cheeses and a cornucopia of fresh fruits. The gourmet offerings at Antinoo's Restaurant are sure to tantalize your taste buds, while the breathtaking views of the Grand Canal add to the dining experience.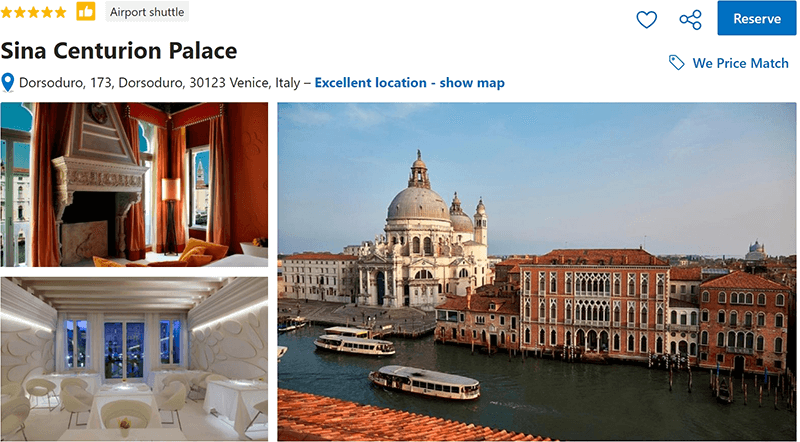 HASHTAGS
#SinaCenturionPalace #VeniceItaly #LuxuryStay #ItalianElegance #VenetianVibes #GrandCanal #HistoricArchitecture #ItalianGetaway #UniqueHotels #VeniceExperience #LuxuryVenice #ItalianCharm #VeniceLifestyle #CenturionPalace #PalaceLiving