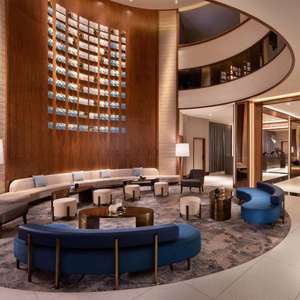 Discover the epitome of luxury and elegance at the 5-star Sheraton Grand Warsaw, where a freshly renovated lobby and an array of on-site dining options are just the beginning. With an innovative and distinctive design, it is no wonder this hotel is a magnet for globetrotters far and wide. Nestled in the heart of Warsaw at Three Crosses Square, it's a mere 5-minute stroll from the iconic Nowy Świat Street, and a 10-minute jaunt to the picturesque Łazienki Royal Park.
Every detail is thoughtfully considered in their air-conditioned rooms, all of which are equipped with minibars and tea/coffee-making facilities. You'll find a multilingual flat-screen TV, featuring a variety of cable and satellite channels, in each room, along with a private bathroom. Additional amenities include ironing facilities, a make-up mirror and mineral water. For those seeking something extra special, their top-floor rooms provide complimentary breakfast, snacks and drinks, internet access, as well as exclusive access to a private reception and the Club Lounge.
Stay connected with complimentary Internet access, available in the lobby, restaurants and bars. Dining at the hotel is an experience in itself with two unique restaurants: inAzia, offering a taste of the East with its Asian cuisine, and Cucina Mia, where you can indulge in the flavours of Italy.
Just 1.3 km away, you can reach the stunning Palace of Culture and Science. Venture just 5 minutes by bus to explore the Royal Castle and the charming historic Old Town. The hotel's neighbourhood is an absolute delight with an upscale shopping centre, chic boutiques, vibrant bars and cafés. For sports and science enthusiasts, the National Stadium and the Copernicus Science Centre are both under 3 km away, just across the river.