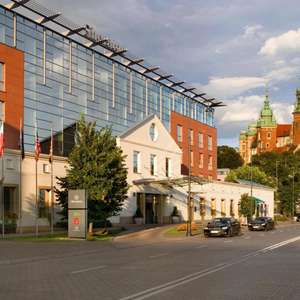 Perched at the heart of Kraków, the luxurious 5-star Sheraton Grand Krakow sits majestically at the foot of the historic Royal Wawel Castle and a mere 40 metres from the picturesque Vistula River boulevards. The property exudes elegance and luxury with its spacious, fully revamped rooms and suites, all boasting manual air conditioning, flat-screen smart TVs with a plethora of satellite channels and Bluetooth connectivity for mobile devices. A tribute to the ultimate luxury experience, the rooms are furnished with tea and coffee-making facilities.
From the Grand Deluxe to Club Rooms and suites, guests can feast their eyes on the beautiful vistas of the river, Wawel Castle or both. The Club rooms and Suites take luxury a notch higher with coffee machines and enhanced guest amenities. The hotel has recently undergone a lobby and restaurant makeover and now boasts three distinct bars and restaurants offering a wide range of menus and beverages.
The main restaurant, Anima, is a semi-casual Italian dining space nestled under a stunning glass-roofed atrium. It serves arguably the best breakfast to kick-start your day and a versatile menu for business lunches or memorable dinners with loved ones.
Located on the 5th floor is the seasonal Roof Top Terrace, a uniquely appointed Lounge Bar offering a selection of refreshing cocktails and light snacks. Its prime location affords spectacular views of the river and the Wawel Castle. Adding to the dining options is SomePlace Else, the sports bar serving palatable casual cuisine with a Tex-Mex twist. During the summer, guests can enjoy live cooking in the open-air summer garden.
The hotel's recreational facilities include an indoor swimming pool, a sauna and a Sheraton Fitness centre. The front desk staff is always on hand, ready to arrange concierge services 24/7. The hotel's prime location situates it just 900 m from the beautiful Main Market Square and a short 12-minute walk away from the historic Kazimierz Jewish District.