Moorish Magnificence & Modern Splendor: Discover our selection of luxury accommodations where Seville's historical charm meets contemporary elegance. Stay in resplendent hotels that pay homage to the city's rich past with ornate Arabic detailing, courtyards filled with orange trees, and rooftop terraces that offer views of the Giralda.
Heartbeat of Heritage: Nestled in the labyrinthine lanes of the Santa Cruz quarter or overlooking the grandeur of Plaza de España, our opulent hotels place you at the epicenter of Seville's vibrant history and culture. Step outside and be greeted by the flamenco rhythms and the scent of jasmine and myrtle.
Culinary Odysseys in Opulent Settings: Taste the richness of Andalusian flavors in our luxury hotel dining rooms. Savor traditional tapas, innovative Spanish cuisine, and international gourmet fare, prepared by renowned chefs, and served alongside fine wines in lavishly decorated salons or under the stars.
Tranquil Retreats from the Urban Energy: Rejuvenate in our exclusive spas that offer a sanctuary within the city. Indulge in a massage under ancient vaulted ceilings, unwind in a traditional hammam, or refresh yourself in tranquil pools, all designed to relax and invigorate.
Bespoke Discoveries by Local Connoisseurs: Allow our concierge to unveil the secrets of Seville just for you. From private tours of the Alcázar to exclusive Flamenco shows and reservations at the most sought-after restaurants, every detail of your visit will be carefully crafted to exceed your expectations.
In the magnetic core of old Seville, almost a whisper away from the vibrant Plaza Nueva, lies the enchanting Hotel Mercer Sevilla. This jewel not only offers complimentary WiFi throughout, but also entices with its in-house restaurant and bar. Beyond this, guests are treated to a gorgeous outdoor pool and sun terrace, ideal for a leisurely swim or to bask in the warm Spanish sunshine. With al fresco dining options at the ready, the restaurant is poised to serve a mouth-watering meal. Each sanctuary-like guest room is equipped with air conditioning, a flat-screen TV and a coffee machine for those who need their caffeine fix. Each private bathroom is provisioned with a shower. With a 24-hour front desk, the hospitality is as warm and welcoming as the city itself. The iconic Triana Bridge - Isabel II Bridge is a mere 328 yards away for those with a thirst for exploration. The Plaza de Armas is a comfortable 0.4-mile stroll away. And for those jetting in, Seville Airport is a convenient 6 miles from the property.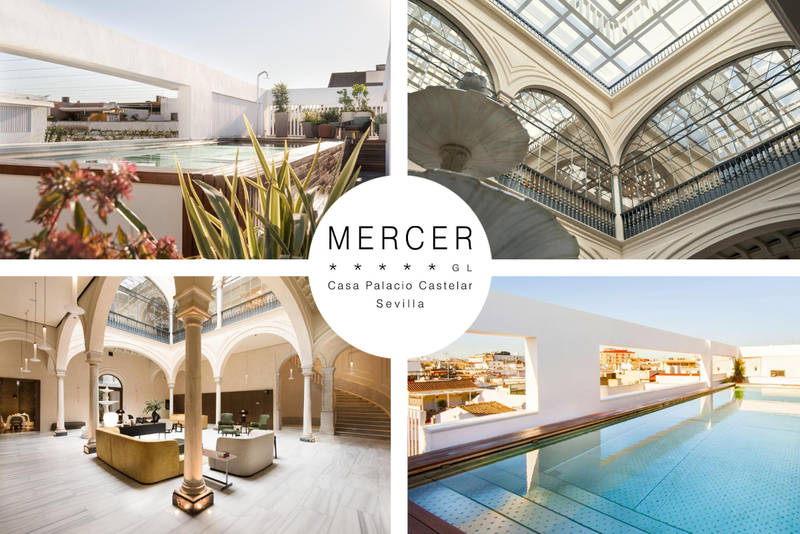 Right next to the regal Real Alcazares in Seville, you'll discover the opulent Hotel Alfonso XIII, a distinguished member of the Luxury Collection Hotels. This haven of luxury boasts an inviting outdoor pool, a fitness center, and an enchanting courtyard garden adorned with a fountain, providing a feast for the senses even before you step inside. Each guestroom is an exclusive sanctuary of comfort, with unique decor, air conditioning, and a mini-bar brimming with drinks and treats. Plush bathrobes and slippers are there for your pampering, while complimentary internet keeps you connected to the world. For a casual outdoor dining experience, the hotel's Pool Restaurant has got you covered, and for traditional local cuisine, the San Fernando restaurant is your go-to. The icing on the cake is the Americano cocktail bar and the terrace at the Ena Sevilla Restaurant that promises stunning views of Puerta Jerez, best enjoyed with their delectable tapas. Situated on the edge of the historic Santa Cruz district, the hotel is a stone's throw away from iconic landmarks like the Seville Cathedral and the Giralda. The Torre de Oro and the banks of the River Guadalquivir, perfect for a leisurely riverside promenade, are just 328 feet away.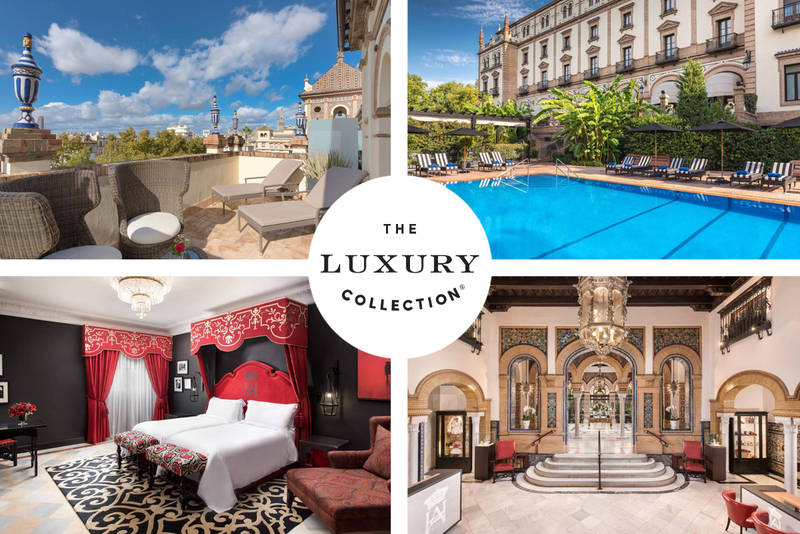 Nestled in the captivating heart of Seville, the exquisite Nobu Hotel Sevilla extends a warm welcome, promising a respite that feels like a second home. With its inviting outdoor pool, sun-drenched terrace and the convenience of complimentary WiFi, it offers the perfect blend of relaxation and connectivity. Each room in this distinguished 5-star establishment is a haven of comfort, complete with air-conditioning, impeccable room service and a 24-hour front desk at your service. Indulge in a scrumptious meal at the hotel's own restaurant or enjoy a leisurely cocktail in the snug bar. For your entertainment, every guest room is outfitted with a flat-screen TV, and certain rooms also include a safety deposit box for your valuables. Each room is tastefully adorned with private bathrooms, fitted with showers and hairdryers, and well-stocked minibars for those late-night cravings. Being a stone's throw away from must-visit attractions such as La Giralda, Seville Cathedral, Santa María La Blanca Church and the iconic Triana Bridge – Isabel II Bridge, Nobu Hotel Sevilla is an excellent base for exploring the city's rich culture and history. Located a mere 7.5 miles from Seville airport with a paid airport shuttle service, the journey to your luxurious retreat is as easy as can be.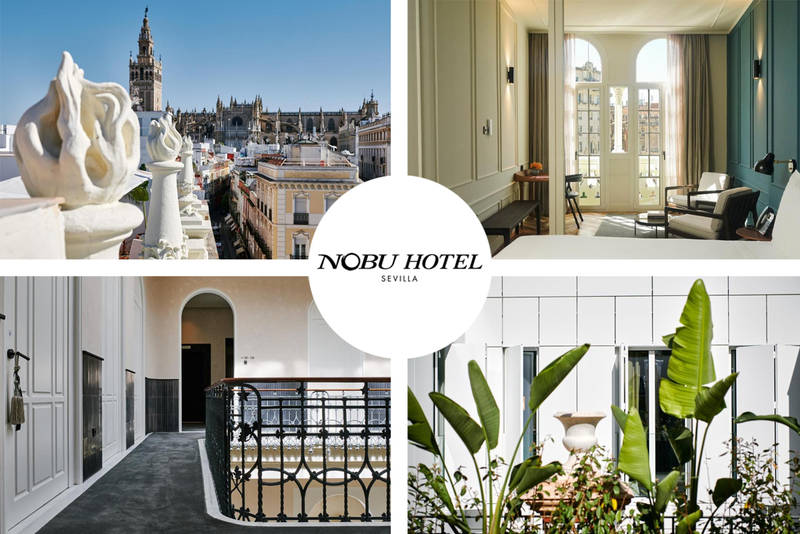 Imagine immersing yourself in the heart of Seville's charm and spirit, at the enchanting Hotel Colón Gran Meliá. Tucked away in the city's pulsating core, a casual stroll away from iconic landmarks like the Giralda Tower and Seville Cathedral. In this regal abode, you are indulged with a gastronomic experience at the in-house gourmet restaurant, while the exclusive rooftop pool boutique on the terrace offers an unforgettable sight. Rooms at the Colón are the epitome of luxury and comfort, boasting complimentary WiFi, automated lighting, and a slick flat-screen satellite TV. The ensuite bathrooms are a work of art, equipped with a separate bathtub, toilet, and bidet, and enhanced with fine toiletries. For relaxation, the Wellness Area Spa By Clarins offers an array of amenities, including a sauna, hammam and bitermic shower. The hotel's culinary journey continues at El Burladero Restaurant, putting a modern twist on traditional dishes. Along with this, you will find the inviting Library, La Abacería del Colón, el Bar del Colón and the mesmerizing lobby. Alcazar Palace is a short walk away and Plaza de Armas Bus Station is at arm's length. And the icing on the cake? You can opt for private airport transfers at an extra cost. For more information, the hotel is just a call away.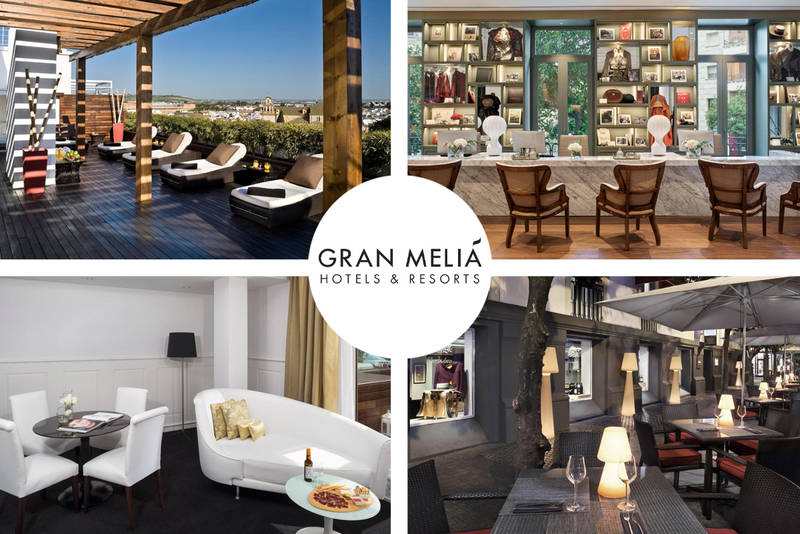 Tucked away in the radiant heart of Seville, just a leisurely 10-minute amble from the renowned Triana Bridge – Isabel II Bridge, resides the remarkable Cavalta Boutique Hotel. This haven of opulence offers more than just a shimmering outdoor pool, private parking and a mouth-watering on-site restaurant - it also boasts a delightful terrace, ideal for basking in the glorious Spanish sunshine. This 5-star sanctuary further extends its warm welcome with a chic bar. With 24/7 front desk service, airport transfers, room service and complimentary WiFi throughout, the Cavalta ensures a seamless stay. Each air-conditioned room is a nest of comfort, equipped with conveniences such as a wardrobe, an electric tea pot, a minibar, a safety deposit box, a state-of-the-art flat-screen TV and a private bathroom with a shower. At Cavalta, each room is adorned with luxurious bed linen and plush towels. Start each day with a delectable continental breakfast included for all guests. Its proximity to popular attractions like the Plaza de Armas, La Giralda, Seville Cathedral and Maestranza Bullring, makes the Cavalta Boutique Hotel a true jewel in the city. Furthermore, the Seville Airport is a mere 8.1 miles away, adding to the ease of your stay.