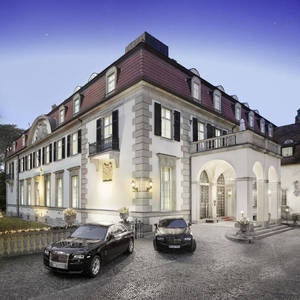 Just a short 10-minute jaunt from the globally-renowned shopping mecca of Kurfürstendamm and the Berlin Trade Fair, nestled in the chic, verdant district of Grunewald, sits the gem that is Schlosshotel Berlin by Patrick Hellmann. This private oasis of luxury, steeped in history, offers the discerning guest a truly unique accommodation experience.
The villa's rich history and impeccable personal service are complemented by the lush park-like gardens that surround it. Each piece of valuable furnishing adds to the hotel's charm, creating an atmosphere that is both grand and inviting.
Design features crafted by the talented Karl Lagerfeld and Patrick Hellmann themselves further enhance the hotel's allure, making it an exquisite escape for those visiting Berlin. From the bright, airy conservatory and the regal restaurant to the cosy bar salon and the opulent lobby, each space is a delight for the senses. A rotating exhibition of photographic art adds an extra touch of sophistication.
The hotel's amenities are equally impressive, boasting an indoor pool that opens onto a secluded garden complete with sun loungers. Event spaces nestled within the heritage-listed interior make for an unforgettable setting for any occasion. Despite its close proximity to the bustling Kurfürstendamm – a hub for international designer boutiques, café culture, and financial institutes – the hotel maintains a tranquil ambiance reminiscent of an established villa district.
A 25-minute drive from Schönefeld Airport, the hotel offers a shuttle service for those eager to explore all of Berlin's sights. The Patrick Hellmann design infuses the historic building with a sense of fashion and glamour. Rooms and bathrooms are adorned with the finest fabrics and bespoke furniture featuring Lalique applications.
For the fitness conscious, state-of-the-art workout rooms are available along with a large pool and a health-focused pool bar for post-workout refreshments. The romantic garden pavilion with its floral arrangements makes for a picture-perfect wedding venue.