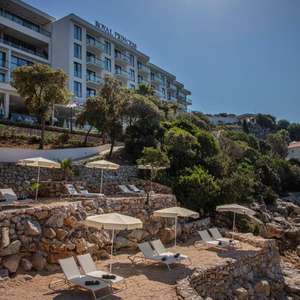 Imagine yourself basking in the sun next to the seaside in Lapad, with a beautiful pine forest enveloping the nearby Royal Princess Hotel. The hotel, which offers breathtaking views of the sea, is the perfect luxury escape. Its features are as lavish as they come, boasting an à la carte restaurant that offers a spacious terrace overlooking the sparkling Adriatic Sea.
As a guest, you are welcomed to indulge in relaxing massages, take a dip in one of the 2 available pools, or enjoy a steam bath. The suites are a haven of luxury, with decor that exudes opulence, air-conditioning for maximum comfort, balconies for a private view of the surroundings, LCD satellite TVs, and a coffee maker for your morning brew. The private bathrooms are equipped with showers or bathtubs and come with complimentary toiletries. The hotel ensures you stay connected with free WiFi access in all rooms and public areas.
A mere 5 km from the hotel lies Dubrovnik's Old Town, a treasure trove of famous landmarks. Take a leisurely stroll along the Stradun Promenade, or embark on a cable car ride to admire panoramic views of the city. The hotel's location allows easy access to transportation, with a local Bus Stop just outside the premises. Every 15 minutes, a bus is available to whisk tourists to Dubrovnik's city centre. To ensure a hassle-free journey, the hotel can organise an airport shuttle upon request, with Dubrovnik Airport located 25 km away.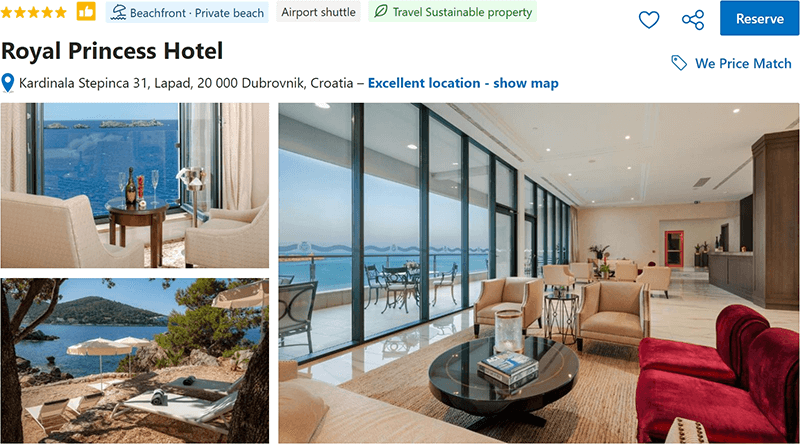 HASHTAGS
#RoyalPrincessHotel #DubrovnikLuxury #AdriaticSea #CroatianEscape #DubrovnikExperience #LuxuryStay #BalkanBeauty #CroatianHospitality #DubrovnikCharm #RoyalRetreat #AdriaticHoliday #DubrovnikGlamour #BalkanGetaway #CroatianElegance #RoyalPrincessDubrovnik