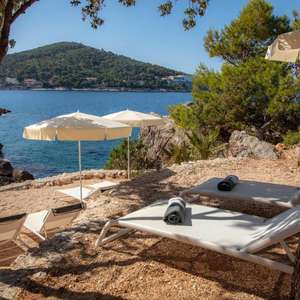 Just a leisurely 4 km stroll from the UNESCO-protected heart of Dubrovnik, the Royal Palm Hotel serves as a luxurious retreat complete with a wellness centre and both indoor and outdoor swimming pools. Its à-la-carte restaurant and bar boast a generous terrace, offering incomparable views of the azure sea.
The rooms are a contemporary blend of comfort and style, equipped with air-conditioning, a flat-screen cable TV, and a minibar. Each unit comes with the added luxury of a balcony, with views spanning either the endless sea or the peaceful park.
Free WiFi access blankets all rooms and public areas, ensuring you remain connected. Each morning, you can start your day with a breakfast served at the hotel's restaurant. The wellness centre caters to all your relaxation needs, offering sauna facilities, a range of massages, swimming pools, and a fitness area for those who wish to stay active.
A beach adorned with sun loungers and parasols awaits just 50 metres away, offering the perfect spot for unwinding. The popular Copacabana beach and the picturesque Lapad Bay are both just a kilometre away. The Montenegrin border is a 35 km journey away, ideal for a quick cross-border excursion.
Local buses conveniently stop just 50 metres away, whisking you to the entrance of the Old Town. Meanwhile, Dubrovnik Airport is comfortably within reach at a distance of 24 km.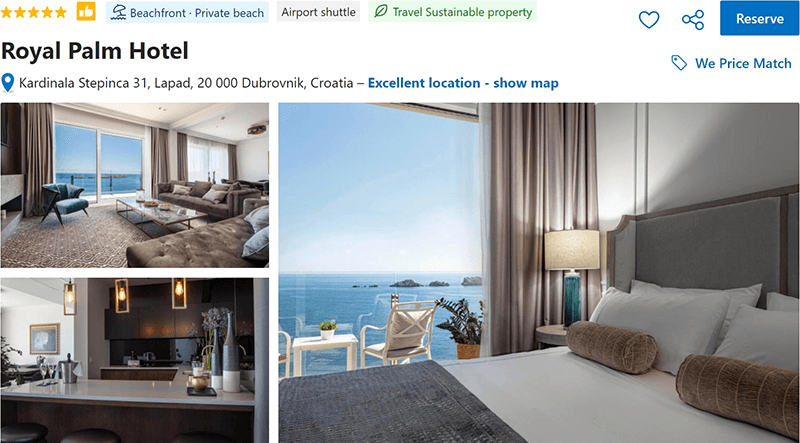 HASHTAGS
#RoyalPalmHotel #DubrovnikLuxury #CroatianEscape #DubrovnikExperience #AdriaticElegance #BalkanBeauty #HistoricDubrovnik #DubrovnikCharm #LuxuryAccommodation #MediterraneanMagic #CroatianCoastline #DubrovnikDelights #RoyalPalmCroatia #UnseenDubrovnik #BalkanGetaway