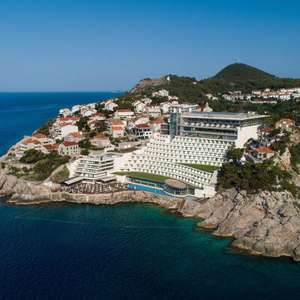 Imagine a luxurious haven, nestled between the azure of the Adriatic sea and the ancient walls of Dubrovnik's Old Town. A mere 15-minute stroll from these historic ramparts, the 5-star Rixos Premium Dubrovnik beckons, its panoramic sea views leaving you breathless. Enveloped in the year-round embrace of an indoor pool, or basking in the seasonal glow of outdoor pools, this hotel promises a serene respite from the everyday.
Inside, a blend of style and comfort awaits in the air-conditioned rooms. The modern, chic furniture sets the stage for a relaxing stay, while the flat-screen TV and complimentary Wi-Fi keep you entertained and connected. The rooms are also complemented by spacious bathrooms, providing a refreshing sanctuary after a day of exploration.
Yet, the Rixos Premium Dubrovnik is not just a feast for the eyes, but also the palate. With three bars and three restaurants, it promises a world of culinary delight. Whether you prefer the exotic taste of teppanyaki from the Umi Teppanyaki Restaurant, the fresh catch from the Libertas Fish Restaurant, or a tipple with a view at the sports bar, there's something to satiate every palate.
And for those in search of total relaxation, the 2-storey spa centre is a tranquil haven. From the soothing warmth of a Turkish bath, to the refreshing pools and rejuvenating treatment areas, it is a sanctuary of wellness. And for those seeking a bit of thrill, the hotel even houses a casino, providing fun and entertainment to enhance your stay.