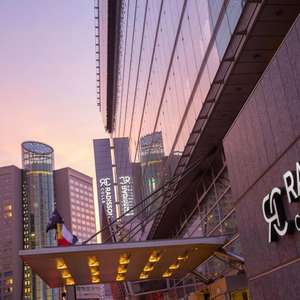 Envision an oasis in the heart of Warsaw, where you are welcomed by the Radisson Collection Hotel, a mere 10-minute stroll from the bustling Warsaw Central Station. Here, you'll discover the comfort of air-conditioned rooms, complete with all the necessities for a perfect cuppa, and of course, complimentary WiFi to stay connected.
These rooms aren't just spacious and contemporary, they come with a safety deposit box for your peace of mind and a large work desk for your convenience. And let's not forget the luxurious, modern bathroom equipped with a hairdryer, perfect for those wanting to look their best.
Restaurants? You'll be spoiled for choice. Start your day with a hearty breakfast buffet at the TAGO Restaurant. Then as day turns to night, why not indulge in the eclectic modern cuisine at THE SPOT Restaurant and Bar, complemented by their stylishly crafted cocktails. And when the summer arrives, you can enjoy your meals al fresco on their lovely outdoor terrace.
The location couldn't be better. Just a 10-minute walk away, you'll find Złote Tarasy Shopping Centre and the iconic Palace of Culture & Science. And when it's time to say goodbye, rest assured, Warsaw Chopin Airport is a convenient 20-minute drive away.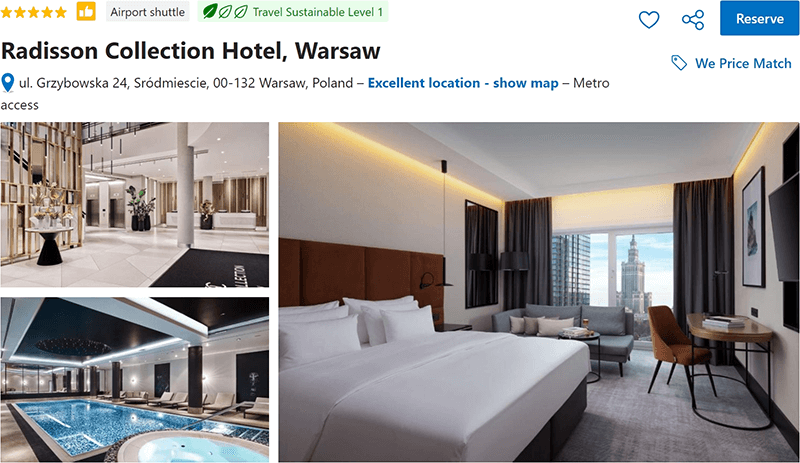 HASHTAGS
#RadissonCollection #WarsawHotel #PolandStay #LuxuryInWarsaw #RadissonExperience #WarsawNights #PolishHospitality #LuxuryLodging #CityBreakWarsaw #ChicStay #RadissonWarsaw #BoutiqueHotelWarsaw #WarsawLuxury #PolishVacation #RadissonCollectionWarsaw