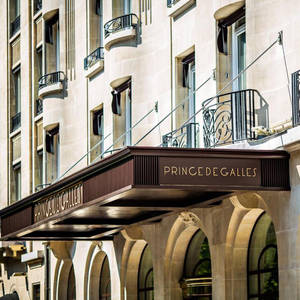 Smack dab in the heart of Paris, the illustrious Prince de Galles is a mere stone's throw (or 656 feet, to be precise) from the iconic Champs-Élysées Avenue. It's also a leisurely 12-minute stroll from the majestic Arc de Triomphe and a breezy 15-minute drive to the sports lover's paradise, Parc des Princes Stadium. This grand hotel offers its guests elegantly styled rooms and suites, all complete with complimentary WiFi. Plus, it boasts a gorgeous Art Deco patio adorned with intricate mosaics.
Preserving its authentic Art Deco charm, each room and suite is conveniently accessible by an elevator. They're all outfitted with a sleek flat-screen TV, a handy mini-bar, and a private bathroom replete with plush bathrobes, a shower, and complimentary toiletries. For those seeking a little extra luxury, some suites even feature a balcony, offering breathtaking views of the Parisian skyline.
The Prince de Galles certainly knows how to start your day off right—with a delightful Continental breakfast served every morning. But the culinary delights don't stop there. The 19.20, a memoir bar, offers a tantalizing selection of food and beverage recipes that pay homage to the City of Love. Always on the lookout for fresh new experiences to offer its guests, the Prince de Galles recently welcomed the first European Akira Back restaurant. This gastronomic Japanese venue is set to tantalize your taste buds, having opened its doors in early 2022.
Guests are also invited to make use of the complimentary fitness center and hammam, perfect for working up a sweat or winding down after a day of sightseeing. For an additional cost, you can treat yourself to a soothing massage. And of course, the friendly staff are always on hand to provide any tourist information you may need.