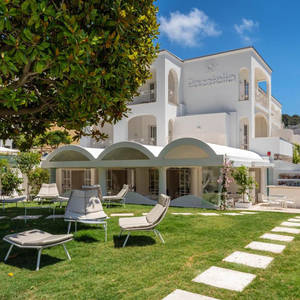 Imagine a haven nestled amidst tranquil floral gardens and fragrant lemon groves. This is exactly what you find at the Pazziella Garden & Suites, a hidden gem tucked away in the heart of Capri Town, a mere stone's throw away, or 328 feet to be precise, from the bustling Piazzetta.
With a vista that captures the captivating beauty of the Mediterranean Sea and a service that is as attentive as it is personal, the Pazziella is a testament to Italian hospitality.
Once inside, you are welcomed by rooms that are an epitome of Neoclassical elegance. Think light soothing colors that complement antique furniture, air conditioning for those warm Italian days, satellite LCD TV for your entertainment and a mini-bar to ensure you never go thirsty.
And if you're wondering about staying connected, rest assured. Free Wi-Fi is available right in the lobby.
For those who like to relax and unwind, there's a delightful swimming pool waiting for you in the garden.
And for the explorers among you, the Funicular Railway Station is just a two-minute saunter away from the Pazziella. Offering frequent connections to the Marina Grande, it's your gateway to the wonders of Naples, Ischia and Sorrento. And yes, ferries depart from here too. So, when are we going?