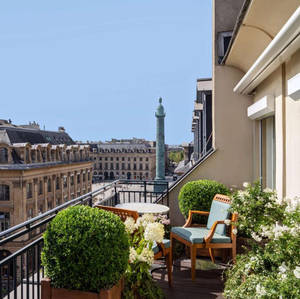 Located a stone's throw away from the iconic Place Vendôme and a mere two-minute stroll from the Opera Garnier, the Park Hyatt Paris - Vendôme is a beacon of luxury in the City of Lights. This 5-star palace hotel oozes opulence with its 820 ft² spa, two gourmet restaurants, and a summer terrace that is simply perfect for basking in the Parisian sun.
The rooms at the Park Hyatt Paris - Vendôme are an embodiment of chic elegance, complete with floor-to-ceiling windows offering stunning views of the bustling streets or serene courtyard. The bathrooms are designed for indulgence with luxe bathrobes, a bathtub for a relaxing soak and a rain shower for an invigorating start to your day.
When it comes to dining, guests can opt for a classic continental breakfast, a sumptuous buffet, or an American breakfast. Each variant is meticulously prepared and served with finesse, promising a delightful start to the day. But the gastronomical journey doesn't stop at breakfast.
Boasting a Michelin star, the hotel's Pur' - Jean-François Rouquette restaurant offers a culinary experience like no other. The open kitchen design lets you watch the culinary masters at work, and for a truly unique experience, you can choose to dine at the Chef's Table overlooking the kitchen. If you're looking for a less formal setting, the Café Jeanne is open throughout the day, serving a variety of French and modern cuisine signed by Chef Jean-François Rouquette. Whether it's brunch, breakfast, lunch, dinner, tapas, or cocktails, every meal here is a celebration of flavors.