Serene Waterfront Grandeur: Choose from our exclusive collection of luxury hotels poised on the edge of the azure Balearic Sea. Many of our selected retreats offer direct access to private beaches and stunning seafront pools where the waves play a symphony to accompany your relaxation.
Architectural Elegance with Mallorcan Flair: Our luxury accommodations are set in beautifully designed properties that reflect Palma's unique charm. From restored historic manors to sleek, contemporary designs, enjoy the harmony of classic island architecture with the indulgence of modern amenities.
Gastronomy Under the Stars: Dine on the finest Mediterranean cuisine in elegant hotel restaurants where the ambiance is as exquisite as the fare. Enjoy locally sourced ingredients, fresh seafood, and innovative dishes prepared by top chefs, all under the warm glow of a Mallorcan sunset.
Oases of Calm in the City's Heart: Retreat from the vibrancy of Palma to the tranquility of your hotel's wellness center. Luxuriate in a selection of pampering spa treatments, unwind in hammams and saunas, or find peace in lush, secluded gardens that offer a sanctuary of serenity.
Personalized Island Experiences: Let our concierge craft the perfect Palma adventure for you, from private yacht charters exploring hidden coves to guided cultural tours through the gothic quarter. Every aspect of your stay is tailored to ensure an authentic and unforgettable Mallorcan journey.
Just a relaxed jaunt from Palma's lively port, you'll uncover a shimmering jewel of 18th-century design, the Palacio Can Marqués. Nestled in the delightful Lonja district, at the heart of the old town, this establishment is a sight to be savoured. Its crowning glories? A verdant, lush garden and a structural wonder - a reversed imperial staircase. But this isn't merely a visual delight; the Palacio Can Marqués offers a variety of amenities for the refined wanderer. Whether you want to break a sweat in the gym, unwind in the serene garden, or tantalise your taste buds at the on-site restaurant, it's all here. Fancy a tipple? There's a bar and a terrace perfect for those warm Palma nights. The hotel's prime location in the Old Town district is just a six-minute stroll from the renowned Palma Yacht Club. Each room is a haven of comfort, boasting a wardrobe, a sleek flat-screen TV, and a private bathroom. Some even feature a kitchenette with a fridge - ideal for those who like their favourite nibbles within reach. Your day at the Palacio Can Marqués starts with a lavish buffet breakfast. And if you need any help, the reception is staffed 24/7 by a team of amicable professionals. For those eager to discover, popular landmarks such as Passeig del Born Avenue, Palma Cathedral, and Plaza Mayor are all nearby. And when the time comes to bid 'adios', Palma de Mallorca Airport is a mere five miles from the property.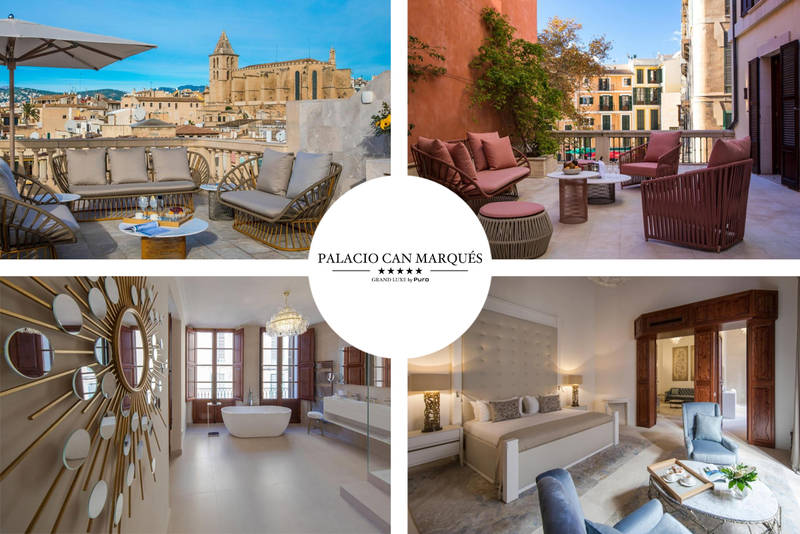 Nestled in the heart of Palma de Mallorca, the exquisite Hotel Gloria de Sant Jaume is a mere saunter from Paseo del Borne. It boasts complimentary access to a sumptuous spa, replete with an indoor pool, sauna, hamman and a rooftop terrace, from where guests can soak in the city view whilst sipping cocktails by the pool.This hotel is no ordinary establishment; it is housed in a beautifully restored 19th-century building. Expect traditional features such as exposed wooden beams, hydraulic tiles and marble bathrooms that exude a sense of authentic Spanish charm.Every room at Hotel Gloria de Sant Jaume is designed for ultimate comfort, offering free WiFi, air conditioning, heating, a smart TV with satellite channels, and a Nespresso coffee machine or tea making facilities. For an added touch of luxury, each room comes with a bathrobe and slippers. The bathroom is a pampering haven, complete with a hairdryer, vanity mirror and luxe toiletries.For your gastronomic pleasure, the hotel's restaurant and bar serve breakfast, lunch and dinner. And if you're here for business, there is a meeting and events room ready for your use.For wellness enthusiasts, an indoor pool is available for a refreshing dip. And if you wish to indulge in some body pampering, massages and treatments can be availed at an extra cost.Just a 12-minute walk away, you'll find the Palma Yacht Club, and the iconic La Seu Cathedral is only 1640 feet away. The Palma de Mallorca Airport is conveniently located just 5 miles away, making this hotel a perfect base for exploring the beauty that is Mallorca.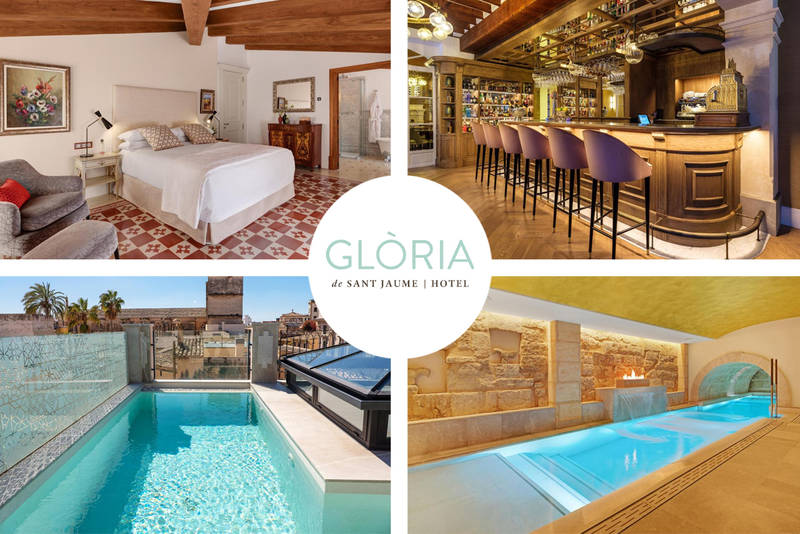 In the pulsating heart of Palma de Mallorca's Old Town, tucked amid its captivating charm, you'll discover a sanctuary of luxury – the enchanting Hotel Cappuccino, The Magic Hotel by Grupo Cappuccino. This gem of an establishment offers a cornucopia of delights, from rooftop pool vistas that sweep across the city, to a spa designed for ultimate rejuvenation, and even an on-site cinema. The majestic Palma Cathedral is but a short stroll away, a mere 1640 feet to be exact. The hotel is not just a place to lay your head, but also a home to a vast collection of art, making it a sensory delight. The interior courtyard, adorned with serene palm trees, provides a peaceful haven for relaxation. Each room is a tribute to the artistic brilliance of famed interior designer Jacques Grange, boasting air conditioning, flat-screen satellite TV, and a mini-bar, all encapsulated in a design that is the epitome of comfort and style. The private bathrooms brim with complimentary toiletries and offer a hairdryer, bathrobe, and slippers for your convenience. A leisurely 10-minute saunter will lead you to Palma's scenic Marina and Promenade. And if you have a flight to catch, worry not – Palma Airport is a brisk 15-minute drive away from Hotel Cappuccino, The Magic Hotel by Grupo Cappuccino.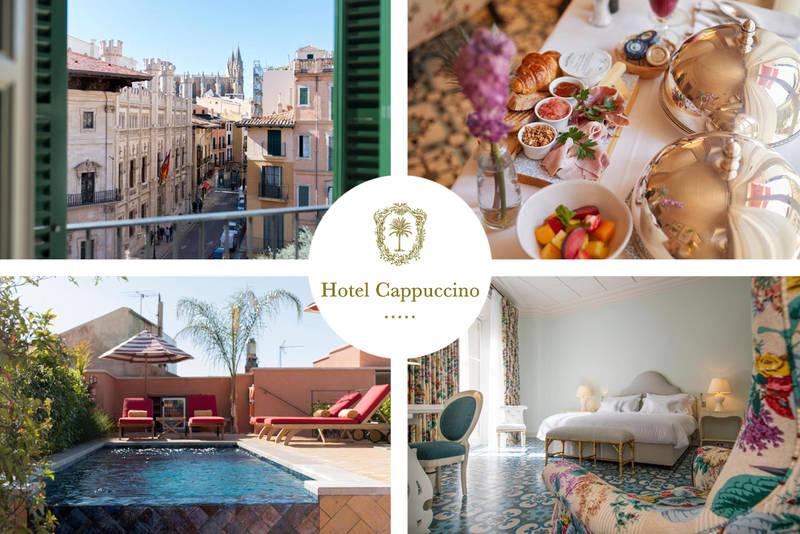 Step into the historic heart of Palma de Mallorca and discover the elegance of Can Bordoy Grand House & Garden. This enchanting establishment is more than just a hotel, it's an enclave of tranquillity, with pools nestled in their sprawling garden and atop the rooftop, all conveniently located a short stroll away from Palma Port. Each suite within the Grand House is an oasis of luxury, featuring welcoming seating areas that guide you to private bathrooms and the comfort of individually-regulated air conditioning. However, this property offers more than just a place to sleep; it boasts cozy living spaces adorned with a fireplace and a library. Their in-house restaurant caters to your gastronomic desires with daily a la carte dining. Not to forget, the year-round heated swimming pool for those who enjoy a swim irrespective of the season. Its prime location, a stone's throw from Palma Yacht Club, Passeig del Born Avenue, and the iconic Palma Cathedral, coupled with its proximity to the lively Plaza Mayor and Palma de Mallorca Airport, makes it a must-visit destination.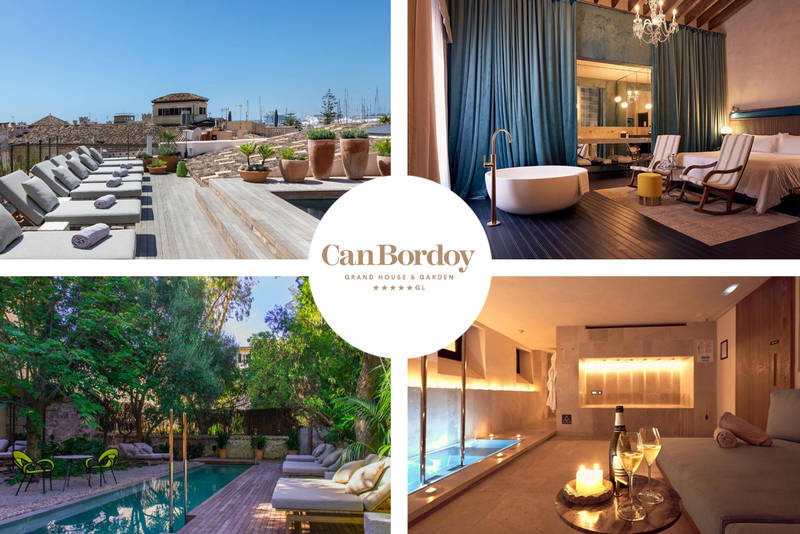 Experience your travel fantasies come to life at the stunning Hotel Can Alomar, ensconced amidst the verdant foliage of Paseo del Borne Boulevard, located in the pulsating heart of Palma. The hotel is a technological haven, offering complimentary WiFi throughout the premises and rooms that are generously proportioned, offering a taste of sumptuous luxury. These sanctuaries are replete with satellite TV, lavish king-sized beds, a quaint seating area, and an in-room safe. Each bathroom is an ode to thoughtful design, boasting either a bath or a shower, a hairdryer replete with diffuser, a hair straightener, along with complimentary toiletries, plus a luxurious bathrobe and slippers, without any extra charges. When hunger makes its presence felt, you can depend on room service to cater to your culinary whims. The hotel also houses a tranquil relaxation area on the sun terrace, featuring an enticing plunge pool and a hot tub, with massages and private yoga or pilates classes available at a small fee. If this wasn't indulgent enough, the Viewing Tower offers treatments with a side of awe-inspiring views of the cathedral and the bay. For the epicureans, the hotel's stylish restaurant, De Tokio a Lima, serves up a riveting blend of Japanese, Peruvian and Mediterranean cuisine, complemented by a bar boasting a splendid terrace. Nestled just 1640 feet from the seafront promenade and a stone's throw away from Mallorca Cathedral and Almudaina Palace, Hotel Can Alomar is ideally situated on the boulevard, with a wide array of shops and restaurants at your disposal.