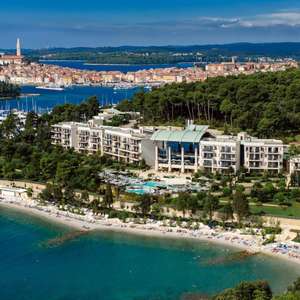 Take a leisurely stroll, just 20 minutes from the heart of Rovinj, and you will stumble upon the exclusive, adults-only retreat that is the Monte Mulini Hotel, a jewel in the Maistra Collection. Nestled amidst a verdant, age-old nature reserve that enjoys protected status, this haven of tranquillity gazes out onto a picturesque bay.
Every room is a testament to luxury and comfort, boasting not only balconies with panoramic views over the pool, garden, and shimmering sea, but also complimentary Wi-Fi and air conditioning. Satellite TV, a stocked minibar, and bathrooms featuring walk-in showers add to the sense of indulgence.
For those who appreciate the finer things in life, the Monte Mulini does not disappoint. The Mediterraneo tantalises the palate with a selection of Mediterranean dishes, while the Wine Vault offers a fine-dining experience second to none, serving up French and Mediterranean delights, and the unique opportunity to dine at the Chef's table.
Spanning an impressive 1,000 m², the Monte Mulini Art Wellness area is a sanctuary of relaxation and rejuvenation. Indoor and outdoor pools, saunas, a state-of-the-art gym, and a Mediterranean garden create a serene space where body, mind, and soul can unwind.
The newly inaugurated "Mulini Beach" is a pebbly oasis overlooking the Lone Bay, offering a plethora of food and drink choices, a hip and happening Cocktail Bar, personalised service, beach concierge, hostesses, and facilities such as changing rooms, showers, toilets, a towel counter and sun-lounger rental.
Despite its secluded location, the Monte Mulini is only a 40-minute drive from Pula Airport, with airport transfers readily available upon request. This is more than just a hotel - it's an experience of unparalleled luxury and relaxation.