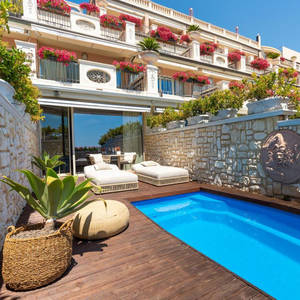 Imagine a serene oasis nestled above the stunning Mazzarò Beach in Taormina, where you can bask in the glorious views of the sea from your own private pools and beach - welcome to the Mazzarò Sea Palace. With its wellness center, this sanctuary offers an array of indulgent massages, spa treatments and even Turkish baths for your ultimate relaxation.
The rooms, all elegantly refurbished and spacious, offer a perfect place to unwind. Most come with balconies and some even boast splendid views, transporting you to an idyllic world away from the hustle and bustle. And for those moments when you want to just relax and not leave your room, a 24/7 room service is available at your convenience.
Stay connected during your stay with the free WiFi available throughout the property, as well as a broadband internet service. And when you feel the urge to explore, the Taormina center is just a cable car ride away, conveniently located 164 feet from the Mazzaró Sea Palace. And if you fancy an adventure, tours around Sicily and to the majestic Etna can be arranged at the hotel.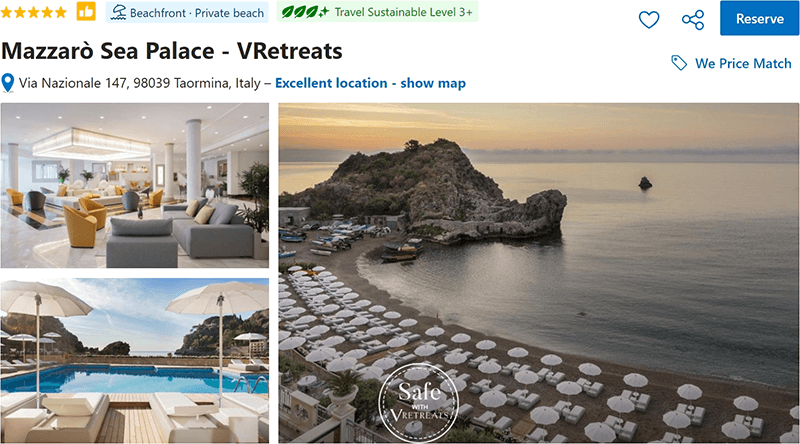 HASHTAGS
#MazzaroSeaPalace #VRetreats #TaorminaGem #ItalianLuxury #SicilianEscape #BeachfrontLuxury #MediterraneanRetreat #LuxuryStay #BoutiqueHotel #TaorminaItaly #SicilianAdventure #ItalianGetaway #VillaLife #SeaPalaceExperience #GourmetItaly