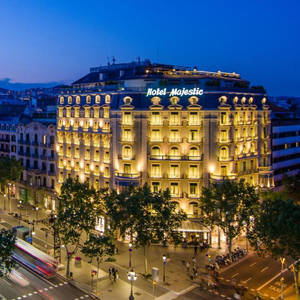 Imagine a stay in a luxurious accommodation, all set within a neoclassical building on Barcelona's Passeig de Gràcia, and you'll find yourself at the Majestic Hotel & Spa Barcelona GL. It boasts of a rooftop spa and an unheated plunge-pool, offering stunning panoramic views of the city to its guests.
Despite its modern, stylish rooms, the Majestic Hotel Barcelona has managed to preserve its original façade, creating a seamless blend of the classic and contemporary. Each room is air-conditioned and equipped with a flat-screen TV for your comfort. For those seeking a more private retreat, apartments are available in an independent building adjacent to the hotel.
Located on the first floor is the SOLC Restaurant, a tribute to traditional Catalan cuisine. The Bar del Majestic, a piano bar, serenades guests with live music in the evenings. The summer months see the opening of the Dolce Vitae Cocktail Bar, conveniently located by the pool and offering a stunning view of Barcelona.
For those seeking relaxation and rejuvenation, the hotel's spa features steam baths, a sauna, and a range of treatments designed to soothe and restore. A fitness center is also available for guests who wish to maintain their workout routine.
Just a stone's throw away, at 328 feet from the Majestic Barcelona, lies Gaudí's Casa Batlló. In just a 10-minute walk, guests can find themselves at the bustling Plaza de Catalunya and Las Ramblas.