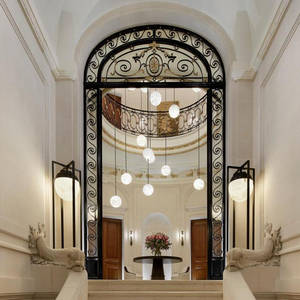 Conveniently nestled in the heart of Paris, a mere 18-minute stroll away from the renowned Musée de l'Orangerie, you'll discover the exquisite Maison Villeroy. This boutique hotel not only offers the convenience of concierge services, but also allergy-free rooms, a delightful restaurant, and the luxury of complimentary WiFi throughout the property, not to mention a chic bar.
Boasting a 5-star rating, Maison Villeroy ensures your every comfort with a 24-hour front desk and room service at your beck and call. For those seeking relaxation or a wellness retreat, the hotel's spa and wellness center, complete with a fitness center, sauna, and hot tub is at your disposal. And if you fancy some outdoor relaxation, the terrace is just the spot for you.
Some rooms come with an added touch of home, featuring a fully equipped kitchen complete with a fridge, dishwasher, and an oven. Breakfast is a daily treat, with options that cater to all - whether you're a fan of continental breakfasts, follow a vegetarian diet, or are a champion of vegan options.
The hotel further enhances your stay with 5-star accommodations, inclusive of a hammam. The iconic Eiffel Tower is only a 16-minute walk away from Maison Villeroy while the Arc de Triomphe is a short mile away. The nearest airport, Paris - Orly Airport, is a convenient 11 miles from the accommodation, making your travels all the more easier.