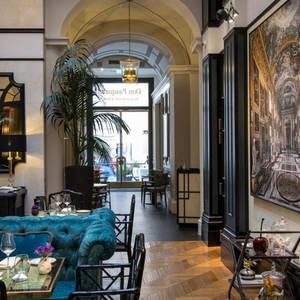 Imagine stepping into the heart of Rome, finding your sanctuary at Maalot Roma - Small Luxury Hotels of the World. This is not just a hotel; it's an experience. It's an air-conditioned oasis, complete with a fitness center for those who can't resist a good workout, even on holiday. While the free WiFi allows you to stay connected, the in-house restaurant tempts with delectable dishes.
Yet, this 5-star establishment is more than just its amenities; it's about the impeccable service. You'll find the front desk manned around the clock, ensuring you're taken care of any time of day or night. From airport transportation to bicycle rental services, every convenience is just a request away.
Enter your room and be greeted with comfort and luxury. Each room is outfitted with a TV offering a range of satellite channels, and a safety deposit box for your peace of mind. With private bathrooms equipped with a bidet and complimentary toiletries, the attention to detail is palpable. Select units even boast city views, providing a stunning backdrop to your stay. And for your convenience, every room includes a desk.
Wake up to breakfast options that cater to every palate, from continental to Italian and even vegetarian options, served daily. And when you're ready to explore, you'll find popular sights like the Trevi Fountain, Barberini Metro Station and Piazza Barberini just a stone's throw away. And when it's time to say goodbye, the Rome Ciampino Airport is conveniently located just 9.3 miles from the property.
Maalot Roma - Small Luxury Hotels of the World isn't just a place to stay; it's a place to experience Rome in style.