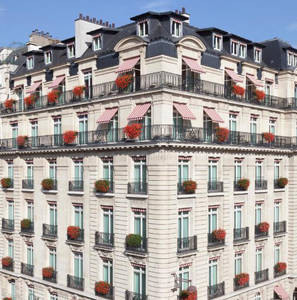 Just a stone's throw away from the famed Champs Elysées and the charming La Madeleine Place, this luxurious Palace Hotel invites you into its splendor. A rooftop swimming pool offers stunning views of the iconic Eiffel Tower and the hotel's sprawling 1,200 sqm garden is a sight to behold. The jewel in its crown is the award-winning Spa Le Bristol by La Prairie.
The rooms at this hotel are a testament to grandeur and elegance, each one uniquely adorned and some boasting Louis XV or Louis XVI style furniture. Each room has a private bathroom replete with a double washbasin and separate shower. The views offer a feast for the eyes - the inner garden, the flower-filled courtyard or the chic rue du Faubourg Saint Honoré.
Adding to its allure, the hotel features a swimming pool that offers magnificent views of Paris rooftops and Montmartre in the backdrop. A spa & wellness center, Le Bristol by La Prairie, complete with a solarium is also available for guests. For the ultimate in relaxation, massages and La Prairie treatments can be arranged. The hotel also offers a 3.9 ft² private garden and a sun terrace.
Food lovers are in for a treat with two gastronomic restaurants on-site, the 3-Michelin star restaurant "Epicure" and the 1-Michelin star restaurant "114 Faubourg". For the little ones, a kids' club 'Bonpoint' is available.
Located in the prestigious rue du Faubourg Saint Honoré, this area is known for its art galleries and high-end shopping, with famous brands like Gucci and Hermès located nearby. The Elysée Palace is just a short walk away, while Place de la Concorde is 0.6 mi away. Opéra Garnier is also within easy reach. Paris - Orly Airport is 14 mi from the hotel while Charles de Gaulle Airport is 19 mi away. For the environmentally conscious, the hotel also offers a charging station for electric cars.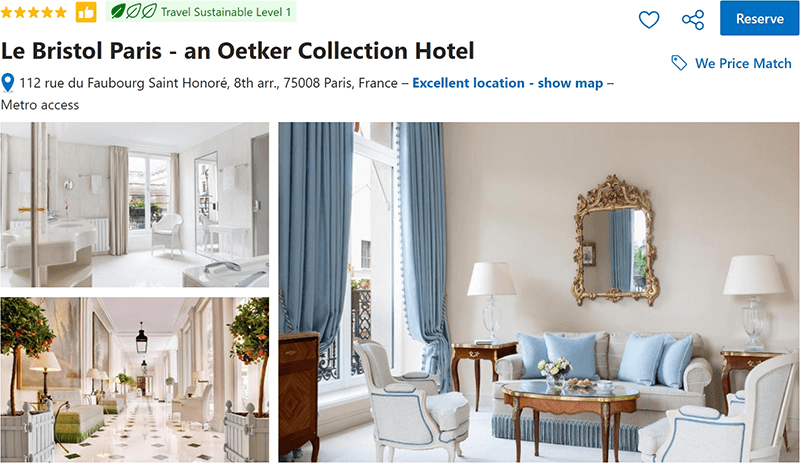 HASHTAGS
#LeBristolParis #ParisianChic #LuxuryStay #FrenchElegance #CityOfLove #BoutiqueHotel #ParisianEscape #ParisLuxury #EpicureRestaurant #ParisByNight #FrenchCuisine #LuxuryTravelExperience #CityOfLights #GourmetParis #ParisLifestyle