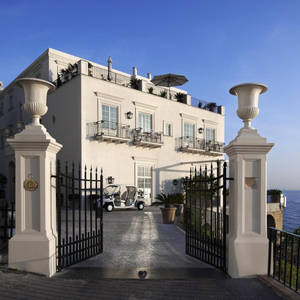 Perched on the picturesque island of Capri, the sublime J.K. Place welcomes its guests with an outdoor pool that boasts breathtaking panoramas of the Bay of Naples. This slice of Italian heaven doesn't stop there - it also offers a top-notch spa, a restaurant serving the finest of Neapolitan dishes and accommodations so elegant, they're nothing short of a dream.
The accommodations at J.K. Place Capri are spacious, airy and fitted with all the modern comforts like a satellite flat-screen TV and free WiFi. The rooms feature a tasteful blend of tiled floors and marble bathrooms adorned with intricate mosaics in shades of grey and white. Each suite offers a vista that either overlooks the mesmerizing Tyrrhenian Sea or the lush hotel garden.
The JKitchen Restaurant on the premises is a food connoisseur's dream come true. Serving a medley of local and Mediterranean cuisine, the restaurant prides itself on its organic and seasonal dishes. Dine in the comfort of your room, the elegant dining room or step out onto the panoramic terrace to enjoy your meal amidst the captivating views.
The wellness center at J.K. Place Capri is your personal sanctuary. From a fully-equipped gym and Turkish bath to a sauna, a tennis court and a hot tub, there's a little something for everyone. Parking at the property is a breeze with free on-site spaces provided. The hotel's location is incredibly convenient too, with the Capri Port just a 5-minute stroll away and the famous Piazzetta only 0.8 mi away.
HASHTAGS
#JKPlaceCapri #CapriLuxury #ItalianGetaway #CapriIsland #LuxuryStay #MediterraneanBliss #ItalyTravel #CapriDreaming #UnforgettableDestinations #CapriHotel #LuxuryHotelItaly #JKPlaceExperience #EscapeToCapri #ItalianElegance #CapriChic