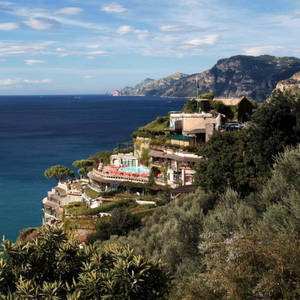 Imagine if I told you about a place where the Italian sun kissed the Amalfi coast, creating a perfect retreat for the discerning traveler. I introduce you to Il San Pietro di Positano, a haven of luxury nestled in Positano. This 5-star hotel is a feast for the senses, with each of its rooms elegantly furnished, boasting terraces that open to the vast expanse of the sea.
Each spacious room offers the comfort of plush bathrobes, slippers, and a flat-screen TV equipped with satellite and pay-per-view channels. Some rooms go a step further, inviting you to sink into a designer sofa or chair, adding to the feeling of opulence.
Food is an art form here, with the Michelin-starred restaurant creating a symphony of flavours using fresh local organic produce. Each morning, the hotel serves a lavish buffet breakfast, a delightful blend of sweet and savoury treats that will leave you satiated. For those who prefer the comfort of their rooms, breakfast can be served upon request.
Il San Pietro di Positano offers more than just rooms and food; it offers an experience. Enjoy your favourite drinks and cocktails at one of the two bars, including one on the beach, or engage in a game of tennis. For those seeking relaxation, the state-of-the-art spa and the free outdoor pool provide the perfect escape.
And the cherry on top? The hotel offers complimentary on-site parking and a free shuttle bus to take you to and from the heart of Positano. A luxury experience that leaves no stone unturned, Il San Pietro di Positano is truly a jewel on the Amalfi coast.